Sandow Media Buys Western Interiors & Design

Shelter title recently received 'several million dollars' in new funding.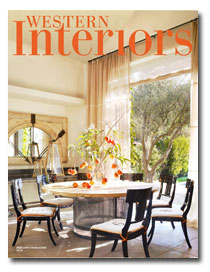 Sandow Media has acquired Western Interiors and Design. While terms of the deal were not released, Western Interiors and Design generates between "$5 million and $10 million" in annual revenue, according to publisher Jennifer Matthews.
In 2007, Western Interiors & Design was a leader in ad page growth in a category that included heavyweights such as Architectural Digest and Elle Décor. But by late 2008, with the economy plunging toward recession and shelter and home magazines among the many categories feeling the brunt, the title asked for more funding from its investors, who put "several million dollars" into the magazine earlier this year.
Recently, several potential buyers had approached Western Interiors & Design, thinking the investors would be willing to sell for a favorable price in the downturn. Before the sale to Sandow, the magazines planned to launched a series of high-end special focused publications, including Modern Dream Homes, which is set to debut this spring. Western Interiors & Design is also planning to invest in its Web operations, and had a goal of 10 percent of overall revenue coming from online by 2010, according to Matthews.  
Western Interiors & Design was represented by AdMedia Partners in the deal.
Meet the Author
---