The San Francisco Chronicle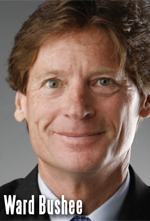 The Chronicle is attempting to redefine what a newspaper is by making it more magazine-like on a daily basis.
In an era of rapidly declining newspaper circulations, The Chronicle's circulation fell more than any other newspaper in the country during the six months that ended in September 2009, according to the Audit Bureau of Circulations. The paper dropped 25.8 percent, to 251,782, compared to the same six months in 2008. At the same time, The New York Times and The Wall Street Journal are targeting the Bay Area reader with beefed up local editions. The question is whether that highly desirable region, with a high household income and tech-savvy people, is still interested in reading newspapers in print.
Under siege, The Chronicle took a radical new approach: Reduce circulation to the core, highest-paying part of the readership, and introduce innovative features.
Frank Vega, publisher of The Chronicle, told the paper's Web site last fall that the newspaper's loss in circulation was part of an attempt to move away from a primarily-ad sales-driven business model. Because of the elimination of marginal circulation, the Web site reported, The Chronicle's weekly subscription rate has jumped from $4.75 18 months ago to $7.75 now.
The Chronicle also made news by converting some of its pages into magazine-quality glossy paper on a daily basis, becoming the first newspaper in the country to attempt an upgrade in the physical reading experience on a daily basis. The paper initiative, which rolled out in early November, included the use of glossy paper on the front page and section fronts. "The improvement in quality was stunning," says Ward Bushee, the paper's editor. "For readers, it was like going from a an old color TV set to a new high-definition television. The Chronicle has vivid color photos and graphics as well as advertising on every page, front to back.
"The dramatic upgrade in quality strengthened The Chronicle at a time when the economy was at its worst in years," Bushee adds. "Combined with a significant news content overhaul and a redesign that blended tradition with innovation, the enhanced quality of The Chronicle distinguished the 145-year-old institution in the marketplace."
VITAL STATS: By eliminating marginal circulation, The Chronicle has increased its weekly subscription rate from $4.75 to $7.75.
BACK TO THE 2010 FOLIO: 40 MAIN PAGE 
Meet the Author
---