The Samurai Responds

Some additional thoughts, clarifications, on the value of print.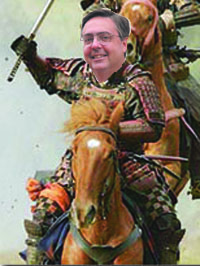 I understand and appreciate my friend and industry colleague Tony Silber's confusion over my recent stand defending print's value and my refusal to accept customers' blithe dismissal of the medium in favor of an exclusive online or lead-gen marketing strategy.
So, I thought it was worth clarifying my thoughts, which admittedly might have been influenced by falling a bit too hard for a literary metaphor. Most publishers have many children. Print. Banners. Newsletters. Lead generation. Webinars. And more. No one—including Tony—is saying print is dead or will disappear entirely from the mix. But we all admit print is quite ill. That "child" needs help, not neglect.
I refuse to acquiesce like most salespeople (and many publishers) and simply sell whatever is hot right now. That's why it's so rare in the industry for publishers to use outside rep firms—we all know that reps simply sell whatever is moving easily and we get no dedicated sales effort. It's human nature for salespeople to hawk whatever is easiest to sell, instead of what we may believe is important to sell. It would be easy to just agree with clients' assertions that print is dead. That's where the danger lies. If we, as an industry, stop trying to sell print, it's death becomes a self-fulfilling prophecy.
We all know that our advertisers' customers rely upon a huge variety of different influences (print, trade shows, word-of-mouth, online search, etc…) to understand a product and a brand and make a purchase. Everyone—publishers and marketers alike—talks about an integrated marketing plan being the most effective way to sell product. But marketers (and CFOs demanding accountability) would love to just live on "actionable leads" alone. Like children, they would love to just live on dessert. But in order to be healthy, they need to eat their vegetables too, and that's where we come in.
We need to pitch integrated plans. We're not samurais, limited to only one weapon and One Way. But one of those weapons is print and I am warning that if we do not sell it hard, if we just let it wither, it will do just that. So I don't accept a marketer dismissing print out of hand. And to sell print in the modern environment my company has amassed a toolbox of data and measurements that get marketers very close to their desired accountability. (I will blog on that in the near future.)
As a media company serving the software development market, we are on the leading edge and have been selling lead generation actively for than four years and we run well over 125 individual programs per year. I have seen the future of that business and it's not a happy conclusion I am drawing. It's a downwardly spiraling commodity business where a lead is a lead is a lead and the source doesn't matter.
Even on a very practical level, few marketers buy lead-gen or online programs on contract—they may buy a quarter at a time at best. Print is still bought annually (more than half in my case) in November and December of the year prior. I can go ahead and let my sales team  blandly agree with the customer and laugh at the funny antiquated notion of—imagine!—print advertising, and we might sell 400 pages that walk through our reluctantly held-open door. Or we can fight like hell and get 500 pages—extra business that my lazy competitors didn't bother to go after hard enough. That translates into a lot of money and I'm going to fight for it. That's why I'm getting my team fired up about print and I suggest that others do the same.
I agree with Tony: We need to deal with the radical, deep and permanent changes in our industry. We need to grasp and learn how to master the future—and for the record, BZ Media and Ted Bahr are actively involved in doing this. BUT I see an industry that is agreeing too readily with marketers in the trendy and complete dismissal of print and that is dangerous. And that's why I'm not giving an inch.
Meet the Author
---