Runner's World Sees Boom In Social Media

Facebook climbs 111 percent in one year, Twitter by 293 percent.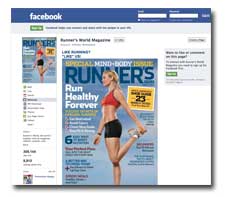 While the industry sits back and reconsiders its newsstand strategy in the face of Tuesday's bleak Fas-Fax report, Rodale's fitness title, Runner's World, is looking at its social engagement platforms and enjoying success.
In one year, the magazine was able to increase its Facebook following by 111 percent, up to 309,070 likes as of February 8, an increase of 163,000 from January 2011 and an increase of 15,070 from since the first of this year. Similarly, the publication's Twitter followers also saw steep increases—in one year the title increased its following on the platform by 293 percent, from 54,000 to 212,000. Furthermore, the magazine's Twitter platform increased by 18.4 percent from 179,000 to its current number since the first of this year.
"We've had a few separate initiatives that have created really big boosts," says Meghan Loftus, associate multimedia editor for the title. "For national marathons, we have a large presence on Facebook and Twitter. For those kinds of things we live Tweet the races and we point people to our website which has live blogs."
The magazine creates specific hash tags to cover live running related news from events like the New York City or Boston Marathons or other large sporting events.
"In January, we covered the U.S. Olympic Marathon trials, which selects the runners who will compete in the Olympics," she says. "This year, NBC owned the rights and they decided to broadcast it the afternoon of the race so there was no live broadcast available. We really crept into an area where people needed coverage—we were able to live blog it, live tweet it and updated Facebook with posts midway through the race and at the end. People could follow the race live when they couldn't do it any other way."
Leveraging itself within the running niche to create exclusive content opportunities is one way the publication has increased its value proposition to users, prompting them follow the brand. In addition to filling gaps in coverage, the magazine rolled out special social media initiatives, which also contributed to its growth.
Loftus and a running pal formulated a plan to run every day from Thanksgiving to New Year's Day—a time of year that presents the hardest challenge to staying in shape, she says. The editor brought the idea to the staff of Runner's World, which implemented it on social media—creating the hash tag RWRunStreak.
"A lot of our audience struggles in the same way that we do in staying fit through the holidays since marathon season ends with the fall and training for spring races doesn't start until January or February, it creates a gap that a lot of people have trouble with," she says. "We were able to get into that space and create this initiative that people really got into. I believe the final number on that hash tag in that 40 day period between Thanksgiving and New Years generated about 7,000 unique tweets, which is pretty significant. Some people have decided to keep the streak going so the hash tag is still in rotation."
In all, the RWRunStreak hash tag generated a total of 10 million impressions—the maximum number of people that could have seen it through other people's Twitter accounts. In the 43 days the campaign was active, the title added 34,000 new followers, a 22 percent increase.
The brand's editorial also supports its social media efforts—its most popular hash tag is RunningTips, which is supported by service driven content with original web copy or pieces from back issues. About three to five times a day the group posts original articles that include running related data, tips for motivation and racing news, which are also shared on social media sites to heighten engagement.
"What helps us is we know our audience runs," says Loftus. "They want to hear about what runners are doing so we can use these platforms to put them in touch with that and with us."
Meet the Author
---