Rodale Hires Condé Nast VP for New CTO Role

New CTO, Bobby Chowdhury, to oversee upcoming e-commerce platform.
Upping its commitment to a new e-commerce platform, Rodale has brought on Bobby Chowdhury to serve in the newly-created role of Chief Technology Officer.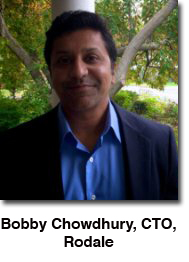 Chowdhury will oversee the technology infrastructure of the company, including an expansion of Rodale's web and software development teams, and will be given a strategic role in the construction of Rodale's, an e-commerce platform scheduled to launch in the spring.
Little information about Rodale's online retailer effort has emerged so far, but, in line with the publisher's brand, the online retailer will feature "beautiful, well-crafted" products with an eye toward sustainability. The venture had 10 dedicated staffers as of October, according to a report by AdWeek.
As CTO, Chowdhury will report to Anthony Astarita, GM/SVP of digital and new brand development.
"As we begin an important year for the company, Bobby's valuable expertise and management background will help us turn our IT infrastructure into a strategic asset," Astarita says in a statement. "His entrepreneurial spirit coupled with his deep knowledge of software development and back-end systems management of media companies and VC-backed startups make him a key partner for our business."
Chowdhury had spent the last four years as vice president of engineering and digital technology under Condé Nast. One of several companies to revamp its digital management for the new mobile atmosphere, Condé actually made a similar move in 2010, recruiting Joe Simon to a then-new CTO role.
See Also: Merging Brands with Technology (Q&A With Joe Simon)
Prior to Condé Nast, Chowdhury had served as CTO of United Media & Scripps Ventures and co-CTO of E.W. Scripps where, among other responsibilities, he managed the company's e-commerce platform.
To stay updated on the latest FOLIO: news, become a Facebook fan and follow us on Twitter!
Meet the Author
---