Rival Newspapers Begin to Share Content—Will Magazines Follow?

As revenues shrink, newspaper publishers look across town to cut costs.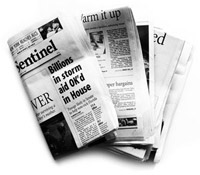 For FOLIO:'s 2009 predictions feature ("117 Magazine and Media Predictions for 2009"), Raymond Roker, co-founder and publisher of Urb magazine, predicted that "former foes will share information on clients and prospects."
In the newspaper industry, on the editorial side, this is already happening.
There was a story posted on Sunday by the Associated Press (itself a literal product of the idea of newspaper rivals sharing news resources) about how Texas' Dallas Morning News and Fort Worth Star-Telegram—former fierce rivals—have been sharing concert reviews.
Their announcement was followed by another one in December, when the Washington Post and Baltimore Sun said they would share resources to cover Maryland.
That once-bitter rivals would agree to forge an unholy alliance is a product of the economic downturn, the rise of the Internet, shrinking staffs and slashed travel budgets.
Gary Wortel, publisher of the Fort Worth paper, told the AP: "I don't look at us as competitors anymore."
It's also a way for newspaper publisher to avoid additional, demoralizing job cuts (although having to make nice with your arch rival can't be great for morale, either).
If newspapers have been pushed to do this, could magazines not be far behind?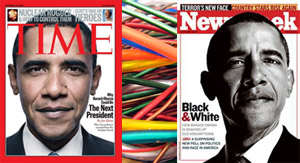 We've seen plenty of magazines restructure to share internal resources (see Time Inc., Source Media, Nielsen et al) but have yet to forge the sort of unholy alliance we're seeing in newspapers. (In fact, the only one I could come up with in magazine publishing is Fader's recent pact with the Web site Pitchfork, and that one doesn't really pool editorial, although it's not out of the question.)
But imagine, for a second, Time and Newsweek—two of the fiercest competitors I can think of in the magazine business, outside of the celebrity category—sharing a reporter covering Sarah Palin in Alaska, for instance (or, more realistically, a local election with national implications). They already link to other on the Web. Why not in print?
Alas, I have a feeling both Time and Newsweek would fold before they agreed to share reporting resources. But for other magazines, it might be another concession on the path to survival.
Meet the Author
---