The Rise of Programmatic Advertising

Publishers can no longer ignore the revenue power of targeted, automated buying.
With the media industry so hungry for revenue, gimmicky practices often launch industry buzzwords that achieve a rare moment of glory before quickly fizzling out. However, with the consistently championed programmatic advertising, there seems to be real substance behind the hype. With study after study showing rapid gains in programmatic spending and with projections over the next few years expected to soar, publishers cannot help but take notice.
Programmatic technology allows for the automation of cross-platform buying and selling of digital advertising via real-time bidding, which allows for a cost-effective way to take advantage of audience targeting.
Advertisers will continue to rapidly adopt programmatic buying practices, according to an eMarketer report entitled "Advertisers Continue Rapid Adoption of Programmatic Buying" from November 2013. So much so that real-time bidding, which accounts for a significant share of overall spending on display advertising in the nation, will jump to $9.03 billion, or 29 percent of the total spent on digital display advertisements in the United States, by 2017. That is a steady increase from the estimated $3.37 billion spent in 2013, accounting for only 19 percent of the total spent nationwide.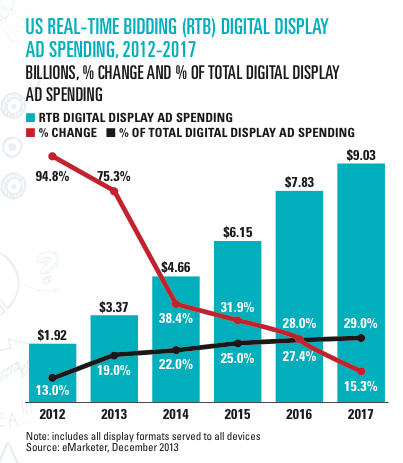 Not all content publishers have welcomed the growth of automated buying and selling with open arms. Some are slow to action, but with the rate of industry-wide change accelerating by the quarter, even holdouts must force some progress among their sales teams to accommodate for a world where programmatic advertising is on track to likely become the rule.
While small niche magazines may yet escape embracing programmatic technology for now, some of the largest publishers are taking aggressive steps toward securing a customized approach to an integrated advertising strategy that works best to fit their individual brand needs for selling through both traditional, direct sales teams and programmatic trading desks.
THE EARLY MOVERS

By operating under a strategy that presents inventory transparently on open exchanges, having removed the blacklist and the whitelist and also invited all interested parties to come and bid for inventory in the open market, Forbes Media has managed to achieve significant revenue growth connected to programmatic selling.
"On the digital side last year, [programmatic selling] represented 30 percent of our revenue," says Mark Howard, chief revenue officer at Forbes Media. "It's basically doubled two years in a row."
Forbes currently operates six sales channels with the direct sales team handling five of them, including magazines, digital—which encompasses desktop, tablet, mobile and video—its conference business, its insights business and its Brand Voice business. A small and dedicated team handles the sixth channel—programmatic—though the company is finding that lines often blur between the sales divisions.
While some publishers worry about programmatic undercutting premium business, Forbes has not found that to be true. As more money moves toward programmatic buying, the company chose to shift in order to accommodate the growing trend.
"We still do significant business on the direct sales side leveraging our multichannel strategy," says Howard. "We've never had an advertiser suggest in any way that they were able to buy enough inventory through open auction that it displaced their need or their willingness or their desire to work with us on a direct basis."
Despite its large and growing programmatic business, Forbes still maintains a devoted programmatic team of just three people who work very closely with both the advertising operations team as well as the corporate technology team to facilitate deals.
A trend among top-tier publishing houses is to employ a smaller unit within the larger sales force that is solely designated to handle the automated buying and selling transactions. Publishers are getting crafty with optimizing their existing sales teams by investing time and money in training or creating smaller programmatic selling units consisting of new hires already well versed in the current technology.
Alanna Gombert, general manager of the CatalystDesk at Condé Nast, has spearheaded the company's programmatic engine, which started late last year. CatalystDesk works as a consulting piece within the larger sales groups at Condé Nast.
Being new to the market, her team's efforts have yet to make a sizable impression on revenue totals for Condé Nast. Nevertheless, Gombert says she sees major growth potential in the next two to five years as she focuses on staying ahead of the curve by making sure that she and her team remain market leaders by helping the sales team at large learn, understand and innovate in their space.
"We operate as a startup within the company," contends Gombert. "Our job is to make sure that we pick the very best [programmatic approach] and roll it out effectively across the company and bring revenue in across email, video, mobile and display."
Gombert's team of five was brought on board because of their advertising operations backgrounds with most moving to CatalystDesk from an ad technology startup.
TechMedia Network's chief revenue officer Mike Kisseberth took his company in a different direction, choosing to lead training efforts with his team of eight, one of whom is dedicated to engaging with the trading desks, while still aggressively educating the rest of the direct sales team on the programmatic landscape and language.
"For a sales team to engage in trading desks, which would be one channel of programmatic demand, they need to be able to speak the language so that they can confidently engage those buyers," says Kisseberth. "That's a gap that many of those traditional sellers would have that needs to be trained and developed."
It is a roadblock to overcome for many media companies with current staffers stuck in a more old-fashioned mindset, according to Kisseberth.
"If you don't have those skill sets, you can find all sorts of reasons why you shouldn't be having that engagement," he says.
The Hearst Corporation, which earns about 10 percent of its total revenue from the combination of its various programmatic channels, employs a trio of sale engineers, as the company refers to them, who are highly skilled and fully dedicated to working in the programmatic marketplace for the publishing house.
These sales engineers are placed within the operations team and meant to work alongside the broader sales organization in order to bring programmatic-enabled solutions to market. In addition, the media company has also found this system helpful in developing in-house talent as the pairings offer a great learning opportunity for the team at large.
See Also: Arming Your Sales Team to Sell Programmatic
"We've really focused on that coaching and mentoring relationship where we raised the level of the talent of the broader sales organization," says Todd Haskell, senior vice president and chief revenue officer of Hearst Magazines Digital Media. "We don't think that programmatic should be in an isolated world. We really do think that it could be really powerful when put into the hands of a broader sales organization."
At CatalystDesk, TechMedia and Hearst, while approaching staffing differently, all three still maintain small, agile programmatic teams that are integrated into the larger direct sales organizations within their media companies.
GOING ALL IN

The research firm Magna Global, cited in a report by eMarketer entitled "Is the Future of Programmatic Premium?" published in December 2013, predicts a pronounced shift to programmatic by 2017. Magna predicts that by 2017, 52 percent of display-related spending in the U.S. will be done through real-time bidding, with an additional 31 percent of spending done through non-real-time-bidding programmatic means. That means, in the next three years, non-programmatic spending for display ads will sharply decline to 17 percent  from the estimated 47 percent in 2013. As of 2013, display ad spending was still dominated by non-programmatic spending. However, Magna predicts the shift away from non-programmatic will be cemented by the end of this year as total real-time bidding and non-real-time-bidding programmatic spending in the U.S. is expected to hit 63 percent. Non-programmatic spending in 2014 is predicted to be only 36 percent.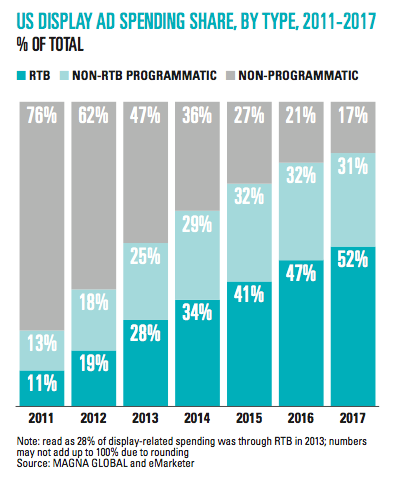 With analysts projecting such accelerated growth coupled with the current shift of many industry budgets toward automated buying and selling, many publishers could find this programmatic-first option quite appealing, if not just a little disconcerting.
Federated Media Publishing made a bold move by selling off its content marketing unit in January 2014. The company has effectively spun off its programmatic selling arm as a new company called sovrn. At its core, Federated Media maintained a content marketing business, which handled direct sales and agency-centered operations. The company's programmatic business, a dynamic only introduced in 2011 after Federated Media's acquisition of Lijit Networks, eventually superseded its core advertising business revenue during the first quarter of 2013.
"Our business is to the core a programmatic and data services business," says Walter Knapp, chief executive officer of sovrn and former chief operating officer of Federated Media. "The reason we spun the company off is because we saw the network grow by 168 percent in the last 12 months."
Currently, there are about 20,000 publishers that utilize the sovrn platform, representing nearly 2 million websites. The company does approximately 3 billion advertising transactions a day, paying its network of publishers about $2 million a week. In the last year, the programmatic business grew total company revenue by 93 percent.
With numbers like that it seems easy to say everyone should jump on the "programmatic or bust" bandwagon, but for publishers tied to legacy print products, that may just not be feasible.
"Digital only, pure-play publishers have been much faster to embrace [programmatic]," says Knapp. "My friends that run traditional print magazines are encumbered by legacy economic models that are somewhat, unfortunately, out of their control. The Internet's a very disruptive force and it's going to force people to either retrench into very niche areas or it's going to force them to change."
A swift transition is difficult to accomplish, yes, but is it really necessary for publishers with ties to legacy print products to move away from more traditional direct-sales market opportunities entirely?
Michael Smith, vice president of revenue platforms and operations at Hearst Magazines Digital Media, says no.
"Direct sales and programmatic go together," he says. "You need a sales force to bring programmatic solutions to market. It's not the case that you hang your shingle on the exchange and people buy you at scale. It's not how the system works."
At Hearst, the company is seeing very large CPMs from clients who buy them programmatically because they pay fair value for the media they receive thanks in part to the strength of their content brands, according to Smith.
"When you're talking about brands like ours around lifestyle topics, whether it's fashion or beauty or something else, advertising is a big part of that experience," adds Haskell. "It's been that way in the magazine business for 100 years, so we want to make sure that we deliver that same kind of high quality experience on our sites."
Regardless of the advertising form or format, Knapp still contends, "two or three years from now, I couldn't imagine a marketing decision being made without using programmatic."
INNOVATE OR EXPIRE

In today's technology driven world, it is not enough to just modernize. Publishers are finding themselves in the precarious position of having to innovate at an accelerated rate in order to survive.
"I think the one thing we've seen in this marketplace is that as technology evolves, what used to take a year or two to happen is, in some cases, happening by the quarter," says Haskell. "So, I think our focus is less on trying to predict the future and more on being really agile in making sure that we're organized in a way that's going to satisfy our customers and grow our business."
Kisseberth, however, warns that within any market dealing with such a quickly altering landscape, it remains important to find and maintain a pace your media company can handle when deciding when to shift focus to new and differing channels of buying and selling.
"You can move too quickly away from direct [selling] and move too quickly to programmatic [selling]," contends Kisseberth. "It's really about getting that timing down so that you can drive the best business results and experience for your consumers."
While publishers are, on the whole, shifting away from the more traditional forms of selling as advertisers quickly move toward new ways of buying, it still does not discredit the needs of the consumer—a point of paramount importance to both publishers and advertisers—and the premium, high quality content they demand.
"At the end of the day, everything that we're doing, every technology we choose and all the tactics we take to go to market really center around our content," Gombert says. "I think the technology is great, but the innovative ideas behind the ads are always going to need to be there. There's never going to be a plug-and-play creative storyboard that happens in real time."
Haskell echoes those sentiments saying, "We look at programmatic as really being interwoven with our broader strategy of creating content that is addictive to our readers and presenting advertiser solutions that are effortless to our customers whether that's going to be on a direct basis through us or a programmatic basis through one of our technology platforms."
Ultimately, programmatic technology serves as a tool for media companies to utilize in the marketplace, which in this case happens to be an open one. Today, there is an ample amount present on the buy side and near-full transparency from some of the largest publishing houses on the sell side. As it currently stands, the implementation of a programmatic system that best fits with your media company could offer great value and even replenish ebbing revenue streams.
"There's no doubt that the technologies that have been developed [in] the programmatic world are very sophisticated," says Howard. "They're very good at matching a person with the right message at the right time. We absolutely see the ability to do that as being a valuable part of the overall experience."
Meet the Author
---