Risa Crandall

vice president, Scholastic Parents Media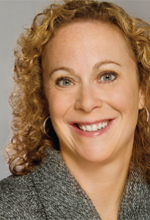 Scholastic Parent & Child is offering unconventional ad opportunities and questioning some long-held views.
The FOLIO: 40 represents the people and trends we think are having the most influence on the industry. That doesn't mean we necessarily agree all the time with what they're doing.
As publishers struggle to improve sagging ad revenues, they're getting creative and offering options that were considered taboo in the past—such as opening up the magazine cover to advertising. Risa Crandall, vice president of Scholastic Parents Media, has been at the front of the charge, selling ad space on the cover of Scholastic Parent & Child.
The magazine featured a cover ad for a company called Smilebox that appeared in the lower right corner with the label "advertisement" in small type. While other magazines have experimented with cover ads—including ESPN, Entertainment Weekly and Esquire, Scholastic Parent & Child was the only one that really drew the ire of the American Society of Magazine Editors.
"That's the only 'Full Monty' execution we've seen that just went ahead and put an ad—two actually—right on the cover," said then ASME president and Runner's World editor David Willey. "The other magazines that have tried new things have all taken different approaches but none of them were that blatant."
However, before committing to the ads, Scholastic Parent & Child polled 2,500 readers about ads and ad units that might appear on the cover, according to Crandall. "This was an important step to take," she says. 'The reception was positive since these cover ads were done tactfully without loss of integrity. Sometimes I've found that the magazine industry assumes that readers will feel a certain way and they don't."
Scholastic Parent & Child sold out cover ads for 2009, resulting in a 10 percent increase in incremental ad revenue. "In print you don't tend to sell out, so we have found that this kind of advertising is getting clients to act more quickly," says Crandall. "We decided to go the route of cover ads based on innovation and creativity—not as a response to the economy. This really puts print in the forefront."
VITAL STATS Cover ads drove a 10 percent increase in ad revenue for Scholastic Parent & Child in 2009.
BACK TO THE 2010 FOLIO: 40 MAIN PAGE 
Meet the Author
---