Report: Events Industry Will Enjoy Robust Growth Through 2011

Events prove resilient despite shift in media.
The global events industry is huge, growing and highly fragmented, and in a time of declining print revenue, offers integrated media companies a highly profitable, defensible, Web-resistant platform for growth, according to a new white paper from DeSilva + Phillips and AMR International.
"This is the star of old media," Denzil Rankine, CEO of AMR, said at an event in August at the Paley Center for Media in New York City, where the event report findings were presented.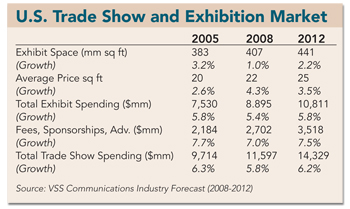 The white paper, which focuses on the trade show and conference parts of the events business, describes a world where global revenue is $100 billion and the dominant monolithic player, Reed Exhibitions, holds no more than 7 percent of that total. It describes an industry with an average growth rate of 6.2 percent globally since 2003 and a growth forecast of 5.5 percent (4.2 percent in the United States) through 2011. Some areas, including the Middle East, are projected to skyrocket in the near future.
The event, attended by nearly 80 leaders in the magazine publishing, events, private-equity and financial markets, featured a six-person panel of media-industry executives. Panelists included: Neal Vitale, CEO of 1105 Media, Don Pazour, CEO of Access Intelligence, Mike Schneider, CEO of Affinity Group, Jeff Stevenson, co-CEO of Veronis Suhler Stevenson and Richard Kerr, head of group development for United Business Media.
Unlike virtually everywhere else in the media world, M&A activity is expected to remain strong, the white paper indicates. "Despite overall reduced M&A activity, the events market seems to be holding its own and may in fact have another strong year of M&A," it states. "Deal volume appears to be up despite the fact that buyers are paying lower multiples due to financing constraints and a weaker overall market outlook." The white paper outlines three companies with aggressive acquisition strategies in the events space, including DMG World Media, Canon Communications and Affinity Group, which went from three consumer events in 2005 to 45 events as of June.
Event Multiples On The Rise
Transaction multiples were healthy. D+P analyzed 149 event transactions since the first of 2005, and found an average revenue multiple of 2.4 times, and an average EBITDA multiple of 9.2 times. Also covered in the report are business models, ownership models, globalization and the effects of the Internet face-to-face.
Interestingly, the events industry has continued to produce strong performance even as traditional print advertising dollars have migrated to e-media. The dot-com boom of 1999-2000 led some to predict the decline of events. But as it turns out, attendees and exhibitors still value the face-to-face experience, the ability to network, to learn in person, to interact with peers and suppliers. "While e-media can distribute the content of events, it cannot compete with the most highly valued aspects of event attendance," the report states. "We do not see this changing in the near or mid-term"
In fact, the Internet can be used to make events much more valuable and profitable in using e-media to promote them, register for them, and add value to attendees in the form of social networks and at-show planning.
The white paper forecasts continued growth, citing the sustained importance of events within marketing budgets. "Growth will be driven by the launch of new events by pure-play organizers and by the further addition of events to b-to-b portfolios," the report states. "Increased sponsorship sales and exhibitor and attendee pricing initiatives will also enhance growth. Growth constraints will include the struggle to maintain attendee numbers and exhibitor loyalty at mature, major events."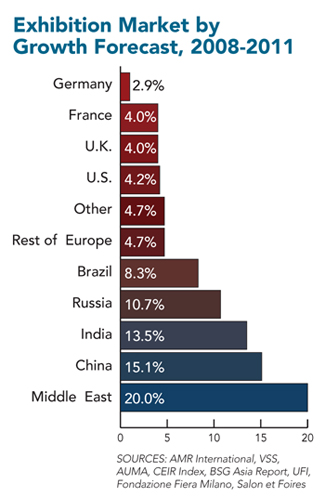 In less-mature-country markets, the report adds, above-GDP growth is being driven by the professionalization of the industry both by international and domestic organizers. It is also supported by the opening of new venues, particularly in the Middle East.
Events markets offer worldwide opportunities, the report states. Many international organizers are targeting the "BRIC" countries (Brazil, Russia, India and China). These countries, the paper states, have strong underlying GDP growth and their events industries are relatively immature.
In terms of growth, the white paper says the basics for the events industry are clear.
• Have a well-defined set of buyers and sellers. "A successful event requires a coherent set of buyers and sellers who want to do business with each other," the report states. "Some organizers are tempted to allow events to increase in size by selling more booths at the risk of diluting a coherent attendee base."
• Attractive dynamics in the underlying served markets. They require:
1. Growth, in the sense that an event is usually directly dependent on the underlying health of the industry or market it serves.

2. Fragmentation. Consolidation is the enemy of the event organizer, the report states.

3. Continuing change or innovation. If there is nothing new to see or learn, there is little point for market leaders to attend an event.

4. Manageable competitive environment. Market-leading events seem to create a competitive vacuum but the events sector can be extremely competitive.
Growth Projections
The panel discussion was the August event's most lively element. Rankine, serving as moderator, asked panelists how confident they were in the growth projections. "If you're showing 6 percent growth with the collapse of the IT event business, then the numbers are conservative," Pazour said.
1105's Vitale offered a note of caution. "To treat the industry as a whole misses the point," he said. "It's really the type of activity and a market-by-market analysis."
When the conversation moved to international markets and which presented the most challenges, UBM's Kerr outlined conditions in the Middle East, India and China, and added that he avoids "the PIGS—Portugal, Italy, Greece and Spain."
Stevenson, describing the business in Russia, said, "While there are always things that you worry about in the trade-show business, there is another other level of things that you worry about in doing business over there. Transparency is not the watchword."
Standalone vs. Integrated
The panel debated the ownership models and the pros and cons of the standalone approach—such as Reed—and the integrated-media approach. Stevenson said VSS has invested in both. "Both can be successful," he said. "You tend to find more dominance in the market with the integrated model. Whether the decline of print makes the integrated approach less important is still an open question. Maybe print will become more of a promotional vehicle."
Pazour said strong shows can become brands unto themselves, but the integrated approach offers the opportunity to leverage one to the benefit of the other. "It also helps you avoid boneheaded moves—Galen Poss of Hanley Wood describes it as, 'The market went left and we kept going straight.' With a magazine, you're closer to the market and you can avoid that."
Meet the Author
---