Relix Publisher: Death of CDs 'Inevitable'

But we still put 'em in our magazines.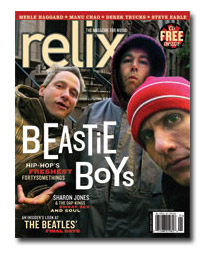 Will 2008 be the year CDs disappear like vinyl, cassettes and 8 track tapes (ugh)? It is inevitable. With MP3 players getting smaller and cheaper, there is no real reason for CD's to exist. Yes, I know some people still like CDs. Some people still like vinyl. Some people wear Lederhosen but it doesn't mean they will come back into fashion anytime soon. Technology rarely returns to its roots; it evolves, gets cheaper, faster and more malleable. For audiophiles, there will still be FLAC files and other technology to keep the integrity of the sound.
We still put CDs in our magazines (Relix, Global Rhythm, Metal Edge). Readers love them and it's a great way for us to share the music we write about. I still play CDs but I prefer to download them to my iPod. I have 8,000 songs in my iPod. Try carrying 8,000 CDs around town.
We also need a new shopping experience for music. Discovering new music alone at home is kind of depressing. Music is meant to be shared. That's why concerts are held in venues and not over the Web. I want to meet people that share my passion for music and can turn me on to new bands.
Imagine a world where you go to a music store, head over to the section you like (rock, jazz, classical, etc) and instead of standing in an aisle flipping through CDs, you can sit on a nice comfy couch and sip a latte with others who share your musical interest. There will be an expert host to tell you about new music coming out and recommend albums or songs. If you want to find things yourself you can scroll through a list of titles and listen to tracks on headphones. When you decide what you want you can either download it to a memory stick or directly into your iPod. The store will keep your titles on file should your MP3 player get lost.
This is the future, a combination of Amoeba Records and Starbucks. I would l spend all my free time there. When it happens look for me in the jamband section—I will be the one wearing Lederhosen.
[EDITOR'S NOTE: Check out our video Q+A with Steve here …]
Meet the Author
---