Relish to Increase Circulation to 15 Million

Newspaper mag plans also to add 13th issue; SVP: 'Relish has been a rocket.'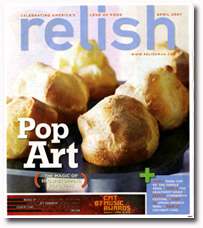 Monthly newspaper food magazine Relish, published by the Publishers Group of America, is set to increase its circulation from 12 million to 15 million effective with its January 2009 issue.
"We feel like Relish has been a rocket," senior vice president of group publishing Tracey Altman tells FOLIO:. "It has resonated with advertisers, publishers and readers, and we've been extremely happy with its success so far."
Relish launched in February 2006 as the largest ad-supported food magazine. Since then, the magazine has increased circulation by three million each year. Next year, according to Altman, PGA plans on adding a 13th issue.
"We never expected this much demand," says Altman.
Ad pages at Relish are up 29.4 percent for the first half of 2008 compared to the same period last year, according to the latest PIB figures. Ad revenues are about $62.3 million, up more than 80 percent.
Late last year, PGA—which also publishes Spry and American Profile—was
acquired
jointly by Bain Capital Ventures and the Shamrock Capital Growth Fund. Terms of the deal were not disclosed.
Meet the Author
---