Regional Publisher Launching Green Magazines

Eco-event group plans mulitmarket expansion next year.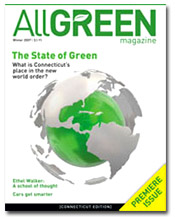 Hartford, Connecticut-based environmentally-focused media and event company the AllGreen Group has announced the launch of AllGreen Magazine and the beta edition of its companion Web site.
The magazine will be the state's first consumer guide for eco-friendly living, and will be printed on a blend of recycled paper. "Right now there isn't a magazine that's bringing the green concept of living to the mainstream," editorial director Heather Burns-DeMelo explains. "Other magazines sort of speak to an audience that's already interested in environmentally-focused topics. Getting people involved, locally, is what we aim to do."
The magazine will initially have a 100,000 circulation and be bundled with a pair of other state magazines, Burns-DeMelo says. AllGreen Group's publisher, Michael J. Guinan, also is co-publisher of Hartford Magazine and publisher of CT Business Magazine.
AllGreen's Web site will feature an interactive consumer and business-to-business directory that promotes green business, and will connect consumers to local stores and service providers. The company's online "AllGreen Marketplace" will feature products such as clothes and gifts that are eco-friendly.
Next month, the group plans to launch a New York City edition of the magazine. In 2008, the group intends to expand into multiple markets across the country, according to Burns-DeMelo. "We want to build this into a nationally supported magazine with content that's relevant to a regional reader."
In other green publishing news, healthcare purchasing and resource management group Consorta announced this week its planned launch of EverGreen magazine, the only healthcare industry title focused on green procurement and sustainable environmental practices in the healthcare field. With an initial qualified subscriber base of 50,000, the bi-monthly magazine is set to launch in May.
Meet the Author
---