With Redesign, Glamour Ditches Fashion Title Sameness

New look reverses decline at retail, sales bump up 5 percent since March issue.
In the summer of 2011, Glamour's editor-in-chief Cindi Leive was having trouble at a newsstand in downtown New York City.
"I could not find Glamour to save my life," she says. "Every single magazine was a girl on a white background. I could not find my own magazine. That shows the homogeneity out there. It was time to mix it up."
Magazine covers are constantly analyzed by publishers, and Condé Nast's Glamour seems to have created a winning formula, just in the nick of time. While overall retail sales for the magazine were down about 7 percent for the first half, it was actually up 5 percent starting with the redesign's March-issue debut.
"This is a difficult time to compete on the newsstand," says Leive. "The gospel of how to sell a cover on newsstands used to be a girl on a white seamless background with her hand on her hip and a big smile. It's appealing to break out of that mold—and for us what was becoming the same old, same old. It was important for us to make sure the cover looked different from moment-to-moment. It's important for us to arrest a reader in the two seconds that you have at newsstands—if she's very sure this is not the same magazine she saw last month, that's incredibly helpful."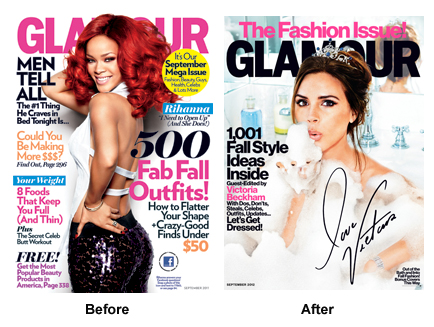 Leive says the idea for the redesign came from a need to update the magazine to reflect the desires and personalities of contemporary women.  That thinking, she says, drove the publication to make significant changes to not only the cover, but the rest of the magazine as well.
"It has a more raw, real and unfiltered vibe," she says. "As for images, we're living in a culture that gives way to the rise of the personal. Our readers care about celebrities, but we also showcase clothes in the fashion pages featuring our own editors. I see our fashion assistants walking around the office looking amazing in an outfit they put together themselves at home. We started taking pictures and posting them to our website and we saw readers really responding to them, so we've done that in the magazine as well. What's aspirational to women now is much more individual, personal and idiosyncratic than it may have been ten years ago."
A driving factor behind the changes has been what Leive calls a culture that is much more focused on moments. After analyzing digital channels, Leive noticed that pictures of products photographed with a real Glamour editor—which included her dress, nail polish and jewelry—performed better than high production value, standalone studio images of the same purse.
The studio photo, she says, is "the way a still-life picture might have run in a magazine five years ago. It's all of the context and story surrounding the bag and the personal elements of it [that make it more successful]. It gets five times as many comments or re-pins or notes than the more antiseptic shot from a studio. We're living in a culture of personal storytelling."
Glamour has also incorporated more reader contributions from real women into its pages. More relationship stories are told in the first person instead of the voice of the magazine, and celebrities speak directly to the reader more often instead of having stories merely written about them.
"The M.O. of the redesign was to make the magazine feel a bit fresher and real," she says. "We got rid of anything that felt like magazine speak. Women today have become highly allergic to anything that sounds fake, processed or unreal. Because of technology, the rise of social media and the general first-person culture that surrounds us everyday online, on television and elsewhere, they're very used to a more conversational way of speaking. It was very important the whole magazine feel that way."
So far readers have been receptive, says Leive, and new advertisers are signing on to the magazine for the first time. Additionally, according to Leive, readers that hadn't picked up Glamour in several years or those that normally don't buy women's magazines have started to come back to the brand or interact with it for the first time.
"The fact that we might be getting a girl that spends her entire day on Pinterest or Instagram and is occasionally buying Glamour—we're now getting her on a more regular basis, which is satisfying," she says. "For us, the new way of shooting covers came from a realization that most magazine covers were starting to look exactly the same every month. There was also a realization that the way people react to images and media is much more personal and our old way of doing things, which worked well for a number of years, was starting to look antiseptic. If this magazine is really the conversations girls are having when guys aren't around, those conversations take place in real places, and not against a white backdrop with the exact same logo color every month."
 
 
Meet the Author
---