Rebecca Darwin

President and CEO, Garden & Gun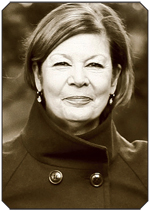 Darwin manages the Garden & Gun team, and has helped secure a 134 percent YOY increase in ad revenue.
"When I started the magazine I was determined that we would have the best team that we could here in Charleston and produce the same kind, or even better quality content that would come out of one of the large publishing companies in New York," says Darwin. "And we've done that."
Darwin acts as the brand ambassador, as she puts it, to help Garden & Gun extend its mission to be a premier publication.
"Looking at the various pieces of the business, we had a really good year in terms of ad revenue, which we all know is still the life blood of what we do," she says. "Circulation revenues were up 60 percent and we've consistently raised our rate base every year. We went from 225,000 to 250,000 this year—managing that circulation well, and increasing our revenues per subscriber. Overall, our revenues doubled year-over-year."
Darwin says that the title has also grown the group's Garden & Gun club. There were significant increases in the numbers of new members, in addition to higher-level membership.
"We made it a goal for the year to increase the number of events we did for those members, to be in more places where they could have more opportunities to interact with Garden & Gun," she says. "Not only did we grow the club, but we were all over the place. The readers of this magazine have an incredible relationship with it and they can't get enough, so we just keep looking for ways to give them more, certainly being in their markets or having them travel to be with us is a great way to do that."
Darwin says that in the next 12 months, the title hopes to increase its frequency and get the magazine in more retail outlets to continue building national interest. Special book projects and product opportunities will also be considered in addition to growing club membership.
VITAL STATS: Ad pages increased 160 percent YOY for the October/November issue. Garden & Gun's single copy sales leaped almost 46 percent in second half 2011 to 20,083, according to ABC's second-half 2011 FAS FAX report.
Meet the Author
---