Reader's Digest Outsources IT to India

Deal worth $350M; latest publisher to send jobs overseas.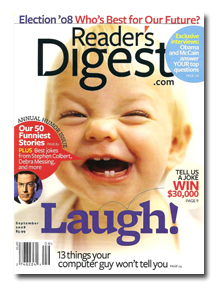 The Reader's Digest Association has entered an agreement to outsource its entire IT operation to an India-based company.
The seven-year, $350 million deal with HCL Technologies, expected to be announced today, is said to be one of the largest in the Indian IT industry.
The agreement covers everything from infrastructure to applications, the companies said.
HCL will provide IT support to RDA's operations across 45 countries and 14 languages covering North America, Latin America, Central and Western Europe,and Asia Pacific.  RDA's IT support will now be located in India, Poland and North Carolina.
HCL, a $5 billion company, employs more than 53,000 across 23 countries, and handles IT, in whole or part, for 1,400 companies.
In January, RDA said it would eliminate 8 percent of its overall workforce, or approximately 280 employees.
It is not clear if or how many of the cuts were assumed in the outsourcing deal. An RDA spokesperson was not available for comment.
Reader's Digest, though, is not alone. Others publishers have moved jobs overseas in recent months. At a recent conference in New York, Hearst EVP and general manager John Loughlin said the company has been outsourcing technical work on its Web site to Vietnam, India and Poland, for "cost and efficiency."
"We're upscaling the jobs" in the U.S., Loughlin said.
R. Srikrishna, HCL's SVP North America, said he expects the trend of publishers outsourcing jobs to cut costs to continue.
There's always been a steady stream of U.S. companies outsourcing IT jobs to India, he said, but there's been an uptick of media companies of late. "We're seeing media companies doing this quite aggressively over the last three quarters."
Meet the Author
---