Radar Copies Infamous Vanity Fair Cover for Politics Issue

'Nude' Obama follows Roshan tradition.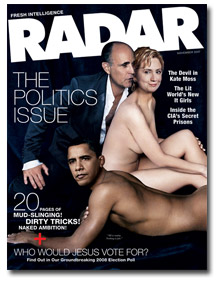 In what might make even the most liberal reader blush, the cover of Radar magazine's November "Politics" issue—its fifth since the magazine was re-relaunched in February—will feature a bare-bottomed Barack Obama, nude Hillary Clinton and open-shirted, ear-nibbling Rudy Giuliani.
The cover was inspired by the now-infamous March 2006 Vanity Fair "Hollywood Issue" cover featuring designer Tom Ford, Scarlett Johansson and Keira Knightley in a sultry (if creepy) Annie Leibowitz photo shoot. (The accompanying video of the nude photo shoot, posted on Vanity Fair's Web site, generated heaps of buzz and 350,000 views a day.)
"With a series of very real crises unfolding around the world, one might assume that the American public would have lost its taste for homegrown theatrics," Radar editor Maer Roshan writes in his editor's letter. "But from its Survivor-like setup ('A black guy, a woman, and a Mormon duke it out for our nation's highest office!') to its canned media controversies, the 2008 campaign seems to have taken a turn down Sunset Boulevard."
Roshan, of course, has done this sort of thing before.
Radar hijacked Esquire's famous 1968 Muhammad Ali cover—conceived by renowned art director George Lois—for a 2005 issue featuring Tom Cruise, and even talked to Lois about it. "Magazines don't even try to do covers with actual ideas anymore," Lois, who helped produce the Cruise spoof, told Radar at the time.
But magazine covers can still generate Ali-sized buzz. Radar's cover was picked up by the Drudge Report, pushing some of the site's 14,979,362 daily unique visitors to radaronline.com.
And buzz can turn into sales. According to the Audit Bureau of Circulations, Vanity Fair's Ford cover sold 562,170 copies at the newsstand—the magazine's second bestselling issue in 2006. The only issue to sell more copies was the October issue, which sold 713,776 copies. That cover? Leibowitz's much-hyped, exclusive family portrait of Tom, Katie and Suri Cruise.
Meet the Author
---