Pulitzer Prizes Expand Eligibility to Magazines

Transitioning from newspaper award to journalism award.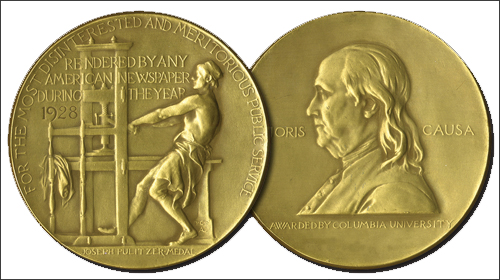 The Pulitzer Prizes have recognized the country's top journalism for almost a century, and for most of that time, there was just one major requirement for entry: the story had to appear in a printed newspaper.
Eligibility was expanded in 2008 to include digital-only news websites into the mix, but now, the institution is finally opening its doors to magazines in its investigative reporting and feature writing categories.
"The Pulitzer Board has been looking at the questions of eligibility in the changing world of journalism very closely for the last several years," says Mike Pride, administrator of the Pulitzer Prizes. "I won't say it goes back to the dawn of the Internet, but for several years now, the Board has taken up questions like these and has made small changes along the way. We made a big change in allowing Web journalism in. This seems like the next step of that. It goes back to the notion that, over time, we're going from being a newspaper prize to a journalism prize, and figuring out how to get the best work into our contest."
He adds: "Theoretically, and maybe even specifically, some of the best journalism being done in America was not being entered in the Pulitzer process. We needed to think about how to make that [change]."
Not every magazine is eligible though. Entrants still have to meet requirements around frequency—publishing at least weekly online or in print—and mission—organizations must be "primarily dedicated to original news reporting and coverage of ongoing stories," and "adhere to the highest journalistic principles."
While the changes now allow any publication meeting the frequency and mission criteria to enter, several publications that sit between the traditional roles of magazines and newspapers had already found their way into the selection process in recent years. In 2010, ProPublica was one of the first digitally-native outlets to win, followed by Politico and The Huffington Post in subsequent years.
Pride says several other options for including magazines were originally on the table. Citing confidentiality, he wouldn't comment on whether there was any disagreement among the Board members on this route, but says the idea was "fully embraced."
The move is "experimental" at this point however, and Pride admits they're still figuring things out from a number of perspectives, including logistics, but he doesn't rule out making magazines a more institutionalized part of the Pulitzer Prize's future. Several current members of the 19-member Board already have magazine backgrounds now, including Katherine Boo, a staff writer for The New Yorker.
"The idea of switching from a prize for newspapers to a prize for the best journalism is a continuum, and the Board has been looking at that issue for some time," he says. "This a very significant step for us though. And I don't think it's the last one."
Meet the Author
---