Publishers Tap iPhone Apps

Extending brand and audience reach into applications for the iPhone.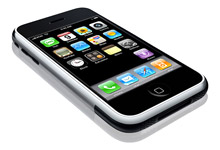 In the grand scheme of things, iPhone applications are a relatively new phenomenon but their popularity has skyrocketed of late. This month, Apple said it passed the one billion download mark for its apps. And a recent estimate put the number of applications offered by the iTunes Store at 35,000, up from just 15,000 in January.
For Abe Burns, Variety's director of online marketing, numbers like this prove the "honeymoon period" for print-to-online platform expansion has long since passed. Much like the Web site, Variety's app has news, reviews, photos and video coverage of the entertainment industry. Content buckets for the app were pulled in according to what was most popular on the site. More than 7,000 downloads were recorded in the first week and has since grown to 20,000.
In terms of branding, some are having promising results. Condé Nast is building applications for the iPhone—available for free at iPhone's App Store—for Style.com, Wired and other brands. The Style.com app, which allows access to photos, videos and reviews of fashion shows, has been downloaded 200,000 times in the last seven months. (The application has gone through three updates.)
"When you look at the photos the iPhone displays them in a terrific way," said Richard Glosser, executive director, emerging media, Condé Nast Digital. "They load quickly, you can use your finger to slideshow through them; you can zoom and pinch as the app allows; you can find out more information on the designer. It's a great utility for the audience of Style.com."

Servicing Readers
While some magazines are leveraging the iPhone as yet another platform to show off their print brands, others are utilizing the technology to its fullest, innovative potential. In February, Lucky launched mobile application "Lucky at Your Service" which acts as a concierge service for its shoe-buying readers.
Using a database service called Nearby Now and GPS technology, brick-and-mortar shoppers can browse ad and editorial content on Lucky's mobile site, select a shoe, color, size, and—after Nearby Now's call center contacts local retailers—receive a text message identifying its availability at nearby stores. Alternatively, Lucky shoppers can buy online at the service's Web site.
A combined 240,000 shoppers have either downloaded the iPhone application or shopped online since the service was launched, Lucky said. (It was also featured in the Top 10 lifestyle applications at the iTunes Store for a stint.)
Metrics Basic, But Monetizable
Analytics are in the early stages, but engagement can be measured using familiar metrics specific to what users are viewing on the app. Variety averages about 500 users per day. According to Glosser, metrics revolve around how many downloads and number of users, as well as ads served. The Style.com app has served up 5 million ads, which come in three flavors: A logo unit that appears on the app's "home page," a bumper that appears before a new section loads, and a "10-pack" ad format that's popular in slide shows where an ad appears on every tenth slide. "We can sell advertisers an ad on the site and extend that to the iPhone app," said Glosser.
Another way publishers have been able to monetize applications is through sponsorships. Last month, Forbes.com launched an "Intelligent Investing" application, offering iPhone and iTouch users access to content from the Forbes.com section of the same name.
The app—developed by a cloud services company called Xignite—includes exclusive video content, too: "Intelligent Investing with Steve Forbes," a series of one-on-one interviews with its CEO and various financial industry luminaries, shot at Forbes' townhouse in Lower Manhattan. There's even something called "the Daily Steve," a feature Forbes developed with the "shake function" that uses the iPhone's accelerometer to generate a random quote from Mr. Forbes himself.
To subsidize it all, Forbes sold a launch sponsorship to the Zurich Financial Services Group, a global insurance company with offices in Europe.
Meet the Author
---