Publishers Relaunch Women's Sites with Focus on Community, Interactive Tools

Meredith redesigns More.com; Hearst's Cosmopolitan.com gets a new look.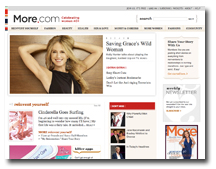 Meredith and Hearst have redesigned a pair of the women's magazine Web sites, with a sharp focus on community.
Roughly seven months after making a minority investment in Real Girls Media Network, a network of online women's social communities, Meredith said it is relaunching More's Web site, making it "a robust, community-oriented site."
According to Lesley Jane Seymour, editor-in-chief of More, the goal of the relaunch was to make the site "the hub for all things relevant" to its demographic—women aged 40 and older. "When I joined More last year, one of the first things that impressed me was how vocal and community-focused our readers are."
Now a part of the Real Girls Media Network group, More.com is broken into nine channels, each under the editorial direction of senior editors: Reinvent Yourself, Fashion, Beauty, Health, Sex & Love, Money & Careers, More Women, Passions and Community. The redesign soft-launched last month.
Cosmo Relaunches Site with 'Interactive' Tools
Meanwhile, Hearst Magazines Digital Media has relaunched Cosmopolitan.com. The new site integrates the old site's most popular features with interactive tools, video and gift guides.
The new tools include an updated navigation bar with drop-down menus that update links and a promo player that allows users to scroll and then click through to the newest features.
Hearst hopes that daily "freebies"—including horoscropes—will increase the amount of online subscriptions. "Our freebies have always came with a sub offer," said Cosmo's editorial brand director John Searles. "Now that they we have daily freebies, there will be more sub offers out there."
According to Hearst, the company as a whole sold 2.2 million net paid subs online in 2008. One in four magazine subs that Hearst sells comes from online.
Meet the Author
---