Prominent Circ. Industry Leader Found Stabbed to Death in California

Hallmark Data Systems director Glen Giles killed in apparent homicide.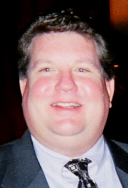 Glen Giles, the director of new–business development at Hallmark Data Systems and an influential figure in magazine circulation, was killed at his home earlier this week in an apparent homicide, police in Burbank, California, said.
Giles, 47, was stabbed multiple times sometime Monday night and was found Tuesday morning, police said. A suspect is in custody, police said, though the suspect has not yet been named and police did not characterize the circumstances of the attack other than to say it was "violent." UPDATE: Police name suspect.
Giles is a towering and beloved figure in magazine circulation. A large man physically—he stood well more than six feet—he dominated a room, but as much for his warm personality as his size. "He was kind-hearted and approachable," said Michael Jordan, vice president at ESP Computer Services and a colleague at the Western Fulfillment Management Association. "It just amazed me how he would walk up and down those aisles at shows and know so many people. He would not just go up to those people, but they would come to him."
In many ways, Giles cut across the U.S. circulation community, touching all the various constituencies. He started his career as an auditor at BPA Worldwide, and then worked at several fulfillment companies, include ESP, Strategic and Hutchins.
In addition, he was based on the West Coast, and was a major player in the circulation community in Southern California. Indeed, Giles was highly influential in the WFMA, planning its meetings and launching initiatives.
"Glen was passionate and committed to the industry and WFMA," said Jason Yee, circulation manager at Canon Communications and an activist at the WFMA. "He was very devoted to the notion that we're a community that helps each other learn and grow to advance our industry. He invested a lot of time and energy to volunteer efforts for the betterment of the organization and industry. His efforts had a consistent goal and vision, which was to help our members continue to get better."
His death has his many friends and associates in shock. "He was a true gentleman," said Glenn Hansen, CEO of BPA, who gave Giles his first job. "He was the gentle giant."
Even as many of his friends and colleagues stress that aspect of Giles' personality—gentlemanly, warm, engaged—others recall his intellect and commitment to volunteerism. "He always had ideas," said Jim Kuchinsky, president of Hallmark and Giles' boss. "He was an organizer. He would get people together and organize things and get people to do what they otherwise would not have done.
"He had charisma," Kuchinsky added. "Ideas. He had a way of making people feel very comfortable. He was an all around perfect guy for this industry."
Christine Oldenbrook, director of marketing and e-media for Bobit Business Media, in Torrance, California, knew Giles for 25 years. She described Giles as selfless. "He is the one who got me in my first circ job," she said. "He is the one who forced me to speak publicly for the first time. He forced me. I went kicking and screaming. And he is the one, who, if I start doubting myself, made me realize that I could do these things."
Funeral arrangements were pending at presstime.
Giles was not married and has no children. He is survived by a sister and his mother.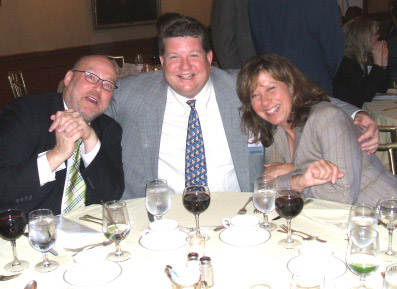 John Rockwell, Access Intelligence; Glen Giles, Hallmark Data Systems; and Christine Oldenbrook, Bobit Business Media, in 2007.

Meet the Author
---