Producing a Magazine Industry Event in a Maelstrom

Thoughts on the best FOLIO: Summit so far.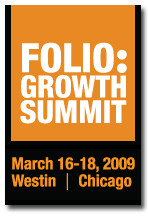 I just returned from the FOLIO: Growth Summit in Chicago. We conducted the event in a media-industry maelstrom—events all around us are being cancelled, downsized and postponed. You can't overstate how hard hit the media industry is right now.
As I walked through the sessions and receptions, both old friends and new ones told me—one after the next—how they've had to lay off staff, how they've frozen salaries, how they've implemented unpaid time off, how they've got 2009 issues tracking at 50 percent of last year.
But the publishing executives at FGS weren't only there to talk about those cost-containment measures. They were there because they want to attack this economic calamity and make something of it. They want to be pro-active, not reactive. They want to be on the offensive and not just hunker down and close their eyes and hope the storm blows over. (The companies and executives who do that are far less likely to survive the next 12 months.)
FGS was for innovators. It was attended by people pushing new forms of paid content, new forms of marketing on behalf of their clients. They're working with lead generation, lead nurturing and social media.
They want to stay one step ahead, not behind.
And that applies to the suppliers too. The companies that exhibited at FGS are no doubt feeling the same pressure that publishers are. Their customers aren't buying as much and their revenues are down.
But they, too, want to stay ahead of the crisis. And so they attended. And because they did, they got access to forward-looking companies that are really engaged in seeking solutions—often the solutions that our exhibitors offered.
Yes, the attendance was down, but this FGS felt like a home run. The faculty was tremendous—the presentations were rich and on target, with plenty of valuable takeaways. The keynoters—Jim Malkin, Bob Carrigan and  Brad Fayfield—offered great wisdom and insight. I could write blog posts for the next few weeks just on their presentations.
FGS 2009 was invigorating. It felt like our best publishing summit so far.
Meet the Author
---