Private Equity Groups Show Interest in Acquiring BusinessWeek

Ailing business magazine 'not a buy for a strategic buyer.'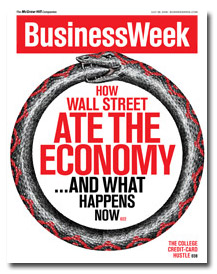 Several potential suitors have expressed interest in acquiring BusinessWeek. Owner McGraw-Hill said this month that it is "exploring strategic options" for the ailing business magazine.
Among those that have stepped up include OpenGate Capital, the Los Angeles-based private equity firm that purchased the print edition of TV Guide last year for $1; and Wasserstein & Co. chairman Bruce Wasserstein, BusinessWeek media columnist Jon Fine reported. Financial data on BusinessWeek apparently was sent to interested parties roughly six weeks ago.
Representatives for both firms could not be immediately reached for comment.
According to Reed Phillips, managing partner at New York-based investment bankers DeSilva + Phillips, BusinessWeek is "not a buy for a strategic buyer" because, in part, the magazine loses too much money.
"Opportunistic private equity firms with expertise in media are the most likely prospects," Phillips wrote in an e-mail to FOLIO:. "OpenGate already has acquired a weekly magazine and is in the process of turning it around. With Jack Kliger at the helm, it makes sense that they might look to take on another weekly.
"Like OpenGate," Phillips continued, "Wasserstein also have experience turning around a weekly—New York—that was losing money. Another play for Wasserstein would be to use BusinessWeek as a horizontal flagship title across all of its industry specific b-to-b magazines at Penton Media, which already owns IndustryWeek. Adding BusinessWeek would give them even more breadth."
According to its financial data, BusinessWeek lost approximately $20 million on $147 million in revenue in 2008 while a slightly smaller loss is anticipated this year, Fine reported. Among companies that were speculated to have interest but are not pursuing a deal for BusinessWeek are Time Inc., Thompson Reuters, Bloomberg and Investcorp.
BusinessWeek is expected to hold management presentations in the coming weeks, the report said.
Meet the Author
---