Print Revenues Up, Martha Looks to Grow Online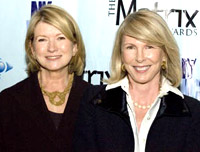 Martha Stewart Living Omnimedia released its third quarter earnings results late last week, with its publishing business-primarily print-reporting a 40 percent increase in revenue. And, in what is becoming a familiar refrain for large, public media companies that deal in "forward-looking statements," the growth of its digital offerings was front and center.
"Improving the revenue growth and financial performance of our Internet business remains a key strategic priority," MSLO president and CEO Susan Lyne said in a statement accompanying its third quarter filings. "We are investing in the people and other resources necessary to take our digital business to the next level."
Internet revenues were $3.3 million in the third quarter of 2007 compared to $2.8 million during the third quarter of 2006.
However, Lyne acknowledged that "third quarter user metrics were below plan."
"There has been progress over the past month, including an increase in page views and engagement," Lyne said. "This trend, while early, reaffirms the company's content strategy and supports some recent initiatives such as our photo galleries and refined search."
Lyne said Web 2.0 and community-based features-which Martha Stewart has dubbed "Marthapedia"-will be "launching soon."
Overall revenues rose 13 percent to $69.3 million on the strength of advertising revenue growth in publishing and revenue from a cookbook deal.
Meet the Author
---