Previous Bidder Takes Minority Stake in TV Guide Network for $123M

Latest twist: One Equity gets 49 percent in strange sale of TV Guide Network.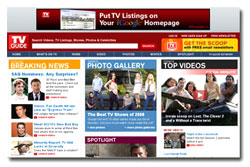 SEE ALSO: TV Guide President Out
The sell-off of TV Guide has taken another strange turn.
Film entertainment studio Lionsgate said it has sold a 49 percent stake in the TV Guide Network and TVGuide.com to Allen Shapiro and One Equity Partners for $123 million in cash.
The announcement comes less than five months after Santa Clara, California-based digital software solutions firm Macrovision backed out on an agreement to sell the network to Shapiro and the private equity firm for as much as $300 million, deciding instead to sell to Lionsgate for $250 million.
According to One Equity Partners managing director Greg O'Hara, "the marriage of Lionsgate's tremendous content creation and marketing prowess, our financial resources and expertise and Allen Shapiro's media investment track record form the kind of winning combination that we have sought from day one."
"This makes sense in that Lionsgate is laying off part of their bet and is a quick source of money to pay back part of their outlay," DeSilva + Phillips partner Jeff Dearth told FOLIO:. "It also makes sense in that Lionsgate knew they were interested before. Maybe there are other assets at the private equity group that made sense for Lionsgate to align with, too."
As part of the deal, Shapiro will serve as chairman of the joint venture and, with Lionsgate co-chairman and CEO Jon Feltheimer, will help lead the channel's executive committee. One Equity Partners also retained the option to purchase an additional 1 percent of the TV Guide Network and TVGuide.com under "certain circumstances."
Last fall, Macrovision sold the print edition of TV Guide to Beverly Hills, California-based investment firm OpenGate Capital for $1, but kept the Web site. As part of the financial terms, Macrovision was to loan OpenGate up to $9.5 million at 3 percent interest.
Meet the Author
---