Press+ Brings Metered Paywall Platform to Video

Format follows page view model for text content.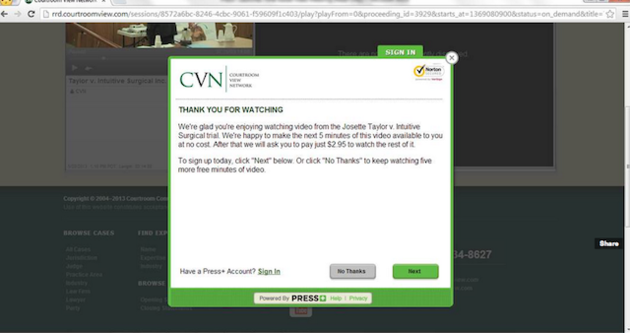 Publishers across all segments are turning to video in an effort to deepen engagement with their audiences. But engagement alone doesn't generate revenue.
As native advertising and sponsored content initiatives squeeze profits out of engagement on the sales side, paywalls have been a way to generate earnings directly from readers.
RR Donnelley's Press+ has introduced a time-based video paywall in the same line of thought as the page view model the company began with in 2009 under co-CEOs Steven Brill, founder of cable network Court TV, and Gordon Crovitz, former Wall Street Journal publisher.
Closely following the page view model's format, viewers first get an alert that they'll have to pay for content after they reach certain time limit. A few minutes later, they'll hit the actual paywall. They'll have the option to pay for that one video or to choose a subscription package at that point.
"We saw hundreds of established media companies and even more newcomers launch digital video and then begin to realize-as our print publishers saw before them-that advertising revenue alone will not be enough to sustain these businesses," Crovitz says in a statement. "Now we have begun to see some of them make the mistake that some print publishers also made. They have installed a hard paywall, which not only slashes ad revenue but does not allow viewers to sample, to see our proven welcome messaging, and to get engaged in the product before being asked to buy it."
See Also: Publishers Tighten the Paywall Meter
Unlike some recent video initiatives however—like the quick-hit style of HuffPo Live, which recently celebrated it's first full year of broadcasting and announced both an international expansion and domestic downsizing of its operations—Brill admits his time-based platform will work better for "long-form" videos with "some kind of narrative arc."
The product was officially launched on the Courtroom View Network earlier today.
Editor's Note: FOLIO: is a Press+ client. 
To stay updated on the latest FOLIO: news, become a Facebook fan and follow us on Twitter!
Meet the Author
---