With Potential Sale Looming, Executive Editors to Exit Entrepreneur

Sources: Private equity group, not strategic buyer, could close deal next month.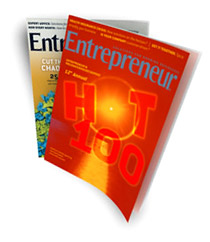 UPDATE: Austin Ventures to Acquire Entrepreneur Media
Following the departure of longtime editor Rieva Lesonsky, executive editors Maria Valdez Haubrich and Karen Axelton also are leaving Entrepreneur magazine, FOLIO: has learned.
Haubrich and Axelton resigned on June 9, Axelton confirmed in an e-mail to FOLIO:. The pair will remain in their roles until July 3.
These departures come only days after parent company Entrepreneur Media named former WiesnerMedia business development vice president Amy Cosper as vice president and editor-in-chief, replacing Lesonsky. Entrepreneur Media named Charles Muselli as director of business development, replacing Chuck Fuller, who also left the company.
Entrepreneur Media president Neil Perlman did not immediately return a request for comment.
These exits come as Entrepreneur Media is said to have completed the final bidding stage of its acquisition and has moved to the due diligence phase with a Boston-based private equity firm, sources who are familiar with the process tell FOLIO:. Talks have slowed recently, according to the sources, due to the recent departures and challenges in the financing market. As long as the talks continue, sources say the deal could be finalized as early as mid- to late-July.
Entrepreneur went to market in February with the first round of bids having come in April. The asking price reportedly is $200 million—translating to a multiple three times revenue, since Entrepreneur Media is about a $60 million company. Financial-services firm A.G. Edwards as well as Dow Jones, R.H. Donnelley and USA Today were said to have interest in acquiring the company..
Entrepreneur's first quarter ad revenues were $25.4 million, down about 6 percent from the same period in 2007, according to Publishers Information Bureau figures. Ad pages were down 7.2 percent.
Meet the Author
---