Police: Glen Giles' Death 'Not a Random Act'

Suspect in custody; angry over relationship with mutual female friend.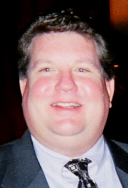 UPDATE: Murder
Suspect Pleads 'Not Guilty'
Police in Burbank, California have named Jorge Ernesto Villalobos as the suspect in connection with the alleged brutal murder of Hallmark Data Systems' Glen Giles [pictured right]. 
The 41-year-old Villalobos, of San Gabriel, California, is in custody.
Giles' alleged murder was not a random act, police said late Friday. It is believed that Villalobos was angry over Giles' apparent relationship with a mutual female friend.
Giles, 47, was stabbed multiple times sometime Monday night and his body was found Tuesday morning, police said.
Giles was an influential figure in magazine circulation, having begun his career as an auditor at BPA Worldwide, and then worked at several fulfillment companies, include ESP, Strategic and Hutchins.
Villalobos was arraigned today in Pasadena Superior Court and is being held on $1 million bail. The investigation is ongoing.
Meet the Author
---