Playboy Expects 30 Percent Ad Revenue Decline

Newsstand sales drop 35 percent in second half.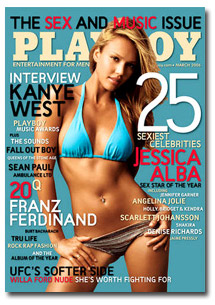 Playboy magazine expects a 30 percent decline in advertising revenues in the first quarter of 2008, the company told investors today during its fourth quarter earnings call. The company reported $85.9 million total net revenue, down $1.1 million compared to the same period in 2006.
Playboy's publishing group reported $24.7 million in revenue, a $1.5 million segment loss for the quarter. Flat newsstand revenues and lower subscription revenues led to a five percent decline in total circulation revenues to $12.6 million. Advertising revenues declined three percent in the quarter to $8 million.
The publishing group's net revenue in 2007 was $93.8 million, down from $97.1 million in 2006.
The grim advertising projection comes on the heels of its Fas-Fax audit statement, released Monday, which shows single copy sales of the magazine fell 35.8 percent during the second half of 2007. Overall, total circulation fell from 3,001,723 to 2,700,262—a 10 percent drop.
The overall earnings report included a $1.9 million charge due to the sale of the Andrita television studio, a deal the company expects to be completed in March 2008.
Net income for Playboy Enterprises totaled $4.9 million in 2007, more than double the $2.3 million reported in 2006. The company attributed the growth, in part, to its licensing group, which was up 18 percent (to $10.5 million) from $8.9 million the year before.
Meet the Author
---