Pharmaceutical Distributor Launches Quarterly Title

BioSupply Trends is company's second magazine.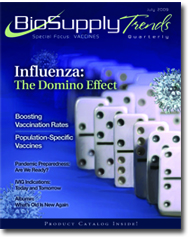 FFF Enterprises, a distributor of plasma products, vaccines and critical-care biopharmaceuticals, has announced the launch of its second magazine, BioSupply Trends Quarterly. It launched with the July issue.
According to editor-in-chief Ronale Tucker-Rhodes, FFF Enterprises sees the magazine to be "an expanded resource for up-to-date news, trends, perspectives and leading indicators on the topics pertinent to our readers—the healthcare providers."
Tucker-Rhodes also oversees editorial for FFF Enterprises' three-year-old title, IG Living.
Targeting specialists, physicians, hospitals and pharmacy buyers, BioSupply Trends Quarterly will carry a circulation of 50,000—twice that of IG Living, which is geared toward providers and patients using immune globulin products.
"This newest publishing endeavor … comes in response to the positive feedback from our customers who have come to rely on our BioSupply Trends bi-weekly e-newsletter," said FFF Enterprises CEO and BioSupply Trends Quarterly publisher Patrick M. Schmidt in a statement.
Meet the Author
---