People StyleWatch Leverages Its Social Media Loyalists

'Style Hunters' campaign generates millions of impressions for brand partners.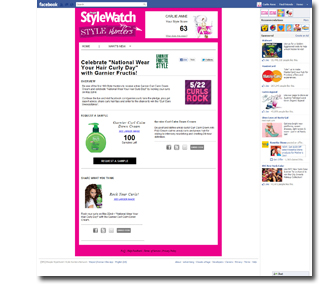 In the context of commerce, buying stuff often hinges on recommendations of others. The more influential or respected the opinions of those people, often the more likely a sale will be made. This rings especially true in ecommerce, and recommendation engines have been built into websites hawking anything from content to computers. In the social media realm, where brands are especially able to identify their most loyal customers based on their digital engagement, "influencers" can be aggregated and harnessed to drive interaction from a larger audience, and they can also be a powerful magnet for sponsorship revenue—especially when commerce is involved.
People StyleWatch has applied this concept to its Style Hunters campaign, which leverages digital ambassadors—1,000 StyleWatch loyalists culled from an A-list panel of 13,000 readers—that receive access to exclusive content and product offers from brands and then disseminate them to their own networks of fashion-forward friends and acquaintances.
For an advertiser, the combination of a robust influencer group, especially in fashion, and the viral nature of social media is a powerful one and StyleWatch applied this to an effective social media-based advertising campaign that started in the spring of this year.
Organic Customer Engagement
Advertising partners in the campaign have included Candie's, Reef, Garnier and Bongo. All, says Stephanie Sladkus, People StyleWatch's publisher, are interested in product sales, but a key component of the campaign is organic audience engagement with new customers. "Advertisers are looking for a way to reach consumers organically—people that aren't already a fan or following them. This is a great opportunity to have peer-to-peer recommendations in the social space powered by this program," she says.
In other words, the impulse to buy is triggered by a message, but the message comes from a friend or a person the consumer follows on the Web or through social media platforms.
Advertisers participating in the campaign float special offers and other exclusive content (product samples, event invitations, special discounts, video) to the People StyleWatch team who then passes it on to their 1,000 Style Hunters. From there, some of the content is blogged about and much of it is passed on virally through Facebook, Twitter and email.
According to People StyleWatch, the program has generated more than 35 million overall impressions for the brands. "When the recommendation or sneak peek comes, it comes from your friend or the blogger you like to follow," says Sladkus. "Often marketers message this community directly and that's not organic. We've pre-screened these users and they are already prone to sharing. It's organic peer-to-peer sharing."
Reef, for example, promoted a giveaway sample of Bella Costa shoes, which generated 550,000 impressions during its campaign. Garnier provided 150 full-size "Curl Calm Down Cream" products, which resulted in more than 6 million impressions in about a month.
Deliverables
The campaigns are closely tracked. In the Garnier program, 112 Style Hunters generated 603 postings to reach that impression total. The majority of shares were on Twitter, with 454. Facebook scored 129 shares and there were 6 blog posts devoted to the giveaway.
From there, the StyleWatch team analyzes the tone of the shares. In this case, 63 percent posted a favorable opinion, 13 percent reported experience using the product and 24 percent directly recommended it. All of these metrics are reported back to the advertisers.
The program is centered on a Facebook app created by Enter New Media that gives billing to four brand campaigns for four weeks. Each campaign is given one week at top billing and then rotated down. The app acts as a central clearinghouse for the content and discount promotions and is where the Style Hunters initiate their sharing. According to Sladkus, the program is sold out through September and is "going fast" for the fourth quarter.
The program, Sladkus says, is driven by ad pages in the magazine. "It's provided as part of a larger program that's tied to paging, it requires a significant investment in pages to run this program."
Meet the Author
---