People on the Move | 6.30.11

Forbes, Bloomberg News, Adweek, Whole Living...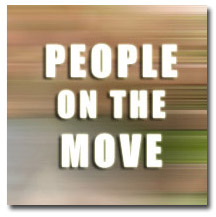 Alanna Stang is now editor in chief of Whole Living. Stang was most recently executive editor of Martha Stewart Living.
Terrence Shepherd is appointed managing editor at Bankrate.com. Shepherd is the former money editor for the Miami Herald.
John Czarnecki is now editor-in-chief at Contract magazine.
Kristen Wright is promoted to senior editor of Electric
Light & Power and Powergrid International magazines from her previous
position of associate editor.
Chao Deng is now markets reporter at TheStreet. Deng
previously was a reporter for dealReporter.
Sarah Thurmond is appointed senior editor of Austin Monthly.
Thurmond was previously an associate editor at Tennis.
Janna Herron joins Bankrate Inc. as a staff reporter.
Michelle Lamison is named associate publisher of marketing
for Cooking Light and will oversee all branding and marketing for the brand.
Margaret Talev is now a White House correspondent for
Bloomberg News.
Jennifer Rooney is appointed CMO network editor at Forbes.
She is the former CMO strategy editor at Advertising Age.
Nick Juliano is newly an associate editor at Platt's Inside
Energy.
Matthew Coopers is promoted to editor of National Journal
Daily.
Politico Pro names LaRonda Peterson and Dan Berman deputy
managing editors.
Anthony Ha joins Adweek as a San Francisco based reporter.
Ha is a former senior editor for VentureBeat.
Entertainment Weekly welcomes Melissa Maerz as a senior
writer covering television and music critique.
Sommer Mathis is the editor of newly-launched
TheAtlanticCities.com from The Atlantic.
Jim McConvile is now associate editor at Financial Advisor.  McConville was previously a staff writer at Ashbury Park Press.
Abha Bhattarai is appointed general assignment reporter and web editor at The Washington Post's Capital Business section.
Kate Maxwell moves from her position of articles editor with Conde Nast Traveler to editorial director of travel website Jetsetter. 
ReadWriteWeb welcomes David Strom as business channels editor. Strom is a former technology editor with Baseline Magazine. 
Blake Morse joins GotGame as a senior editor covering video games, moving from the same position at Game Revolution.
Meet the Author
---