People On The Move | 5.8.13

CQ Roll Call, Politico, W, and Slate...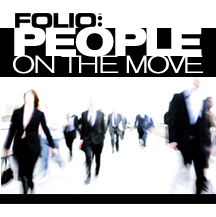 CQ Roll Call has made the following editorial promotions: Emily Pierce is now deputy editor. Pierce was formerly a Senate and White House editor. Also, Shira Toeplitz will serve as a politics editor. Toeplitz was serving as a political reporter.
Kaitlin Menza has been named as senior editor at OK!. Menza was previously at Seventeen, where she was a lifestyle editor.
Access Inteligence, parent company of Folio:, has named Rob Kumar as emedia producer and product manager. Kumar has served as a product manager for Thrillist and Mealtics. Also, the company's PRNews brand has added Lucia Davis to its staff as a community editor. Davis joins the brand from iMedia Connection, where she was an associate editor. Additionally, T. J. Raphael has been promoted to senior editor of FOLIOMag.com and Folio: Magazine. She had been previously serving as associate editor.
I-5 publishing has added three new executives to its staff: Jeff Scharf is now vice president and group publisher. Scharf was most recently vice president of sales at BowTie Inc., a company recently acquired by I-5. Beth Freeman is now vice president of consumer marketing. Freeman has over two decades of publishing experience, leading circulation initiatives at Time Inc. and Primedia. Chris Reggio is now general manger. Reggio was formerly a book category manager at TFH Publishing.
Deborah Way is now deputy editor at O, The Oprah Magazine. Way was previously an executive editor at the magazine.
Politico has named Rebecca Sinderbrand as deputy White House editor. Sinderbrand was most recently a political producer at CNN.
Samuel Homburger is now an account director at The New Yorker. Homburger was previously an account manager at the magazine.
Risa Aronson has been named associate publisher of sales at W. Aronson was serving as an account director at The New Yorker.
Slate has named Jessica Winter as its business and technology editor. Winter was formerly an arts editor at Time.
Esquire has named John Wattiker as an account manager. Wattiker was previously a vice president at Deutsche Bank Private Bank.
Meet the Author
---