People on the Move | 5.3.12

Popular Science, Powder, Sports Illustrated, Worth, Velo…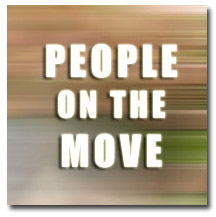 Powder names John Stifter as editor, and moves Mike Rogge to managing editor. Stifter joins the publication after working as a freelance writer. Rogge previously served as the publication's associate editor.
Michael Rosenberg joins Sports Illustrated as a senior writer. Rosenberg is an award winning sports writer, who has been contributing to the publication as a freelancer.

Amy Scattergood is promoted to food editor at LA Weekly. Scattergood was previously a food blog editor for the publication.
Abby Lerner is now executive Web editor at Shape. She formerly served as the magazine's senior Web editor.

Amy Roberts has joined This Old House as a staff editor. Roberts was with Good Housekeeping, where she was an associate editor.
Condé Nast Entertainment Group names Sahar Elhabashi executive vice president, chief operating officer. Elhabashi previously consulted independently, and before that was COO at Discovery Networks International.
Advanstar Communications, Inc. names Justyn Amstutz a senior consultant for its motorcycle portfolio. Before joining the company, Amstutz was a vice president for National Powersports Auctions.

James Dimonekas is promoted to president of Worth Media Group. Dimonekas had been serving the company as acting executive vice president and group publisher.

Naperville Magazine names Mark Zonca editor. Zonca joins the magazine from Benedictine University, where he was director of new media.
American Media, Inc. names Richard Spencer editorial director of Celebrity Magazine Group, which includes: Star, OK! and Reality Weekly. Spencer previously served as OK!'s editor-in-chief.

Dana Bowen is named executive editor of Every Day with Rachael Ray. Bowen joins the magazine from Saveur, where she was also executive editor.
Everyday Health, Inc. announces a new digital broadcast team. Joanna Breen, an Emmy winning television producer, is tapped as vice president of video and television programming. Breen's team will include: Former ABC News correspondent Stephanie Sy, CBS health news journalist Pam Auerbach, former iVillage producer Veronica Brooks, Julia Harrison, Stephen Nahorniak, Zoe Stark and Leslie Steinberg. Additionally, Orlando Reece is named vice president, head of broadcast and digital video sales. Reece joins Everyday Health, Inc. from Grab Networks, where he served as senior vice president of sales.  

Crain's New York Business names Jeremy Smerd assistant managing editor. Smerd was a reporter for the publication, covering politics and policy. Lauren Elkies also joins as a news producer for CrainsNewYork.com. Previously, she was responsible for editing The Real Deal. Andrew Hawkins also joins the publication as a reporter covering politics and policy. Hawkins formerly served as managing editor of Manhattan Media's City & State newspaper.
Yoga International taps Linda Sparrowe as editor-in-chief. Sparrowe was previously editor-in-chief for Natural Solutions.

Jacob Ward is promoted to editor-in-Chief of Popular Science. Ward's prior roll was serving as the publication's West Coast bureau chief.

Mark Jannot joins Reader's Digest North America as chief content officer for Reader's Digest Milwaukee. Previously, Jannot served as Popular Science's editor-in-chief.
The Financial Times appoints Emily Steel as U.S. media and marketing correspondent. Before joining The Financial Times, Steel was a reporter on media and marketing industries for The Wall Street Journal.

Chris McMahon joins INN (Insurance Networking News) as a senior editor. He joins the publication from Futures, where he served as senior and online editor.
InStyle names Jessica Henderson senior editor of the "What's Now" section. In her former roll, she served as a senior editor for Marie Claire. Lavinel Savu is now assistant managing editor. He was previously an editorial operations director for the magazine.
QSR Magazine names Ellen Koteff interim editor. She is also currently an editor of Restaurant Management Magazine.

Debra Rosenberg is now director of editorial operations for Smithsonian. Rosenberg joins the magazine after serving as national editor for digital news at NPR.
Chris Case is named managing editor of Velo magazine. Case formerly managed Trail & Timberline. Matthew Beaudin joins as a staff reporter for both Velo and VeloNews.com. Also, Brian Holcombe is promoted to editor of VeloNews.com. Holcombe previously served as managing editor for Velo.

Bonnie Cha joins All Things Digital as a senior reviewer. Beforehand, Cha was with C|NET, where she reviewed electronics.

Austin Ward is named Ohio State beat writer for ESPN.com. He previously covered Tennessee Volunteers football for The Knoxville News Sentinel.
Meet the Author
---