People on the Move, 4.14.11

Roll Call, ESPN, Reuters, Maxim…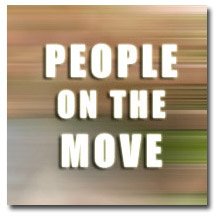 Jennifer Merrit, who most recently acted as deputy personal finance editor with WSJ.com/SmartMoney.com, has joined The Associated Press as financial markets team leader. Amanda Barrett, who was acting east editor with AP, has been named New York City editor for AP.
Kevin Noblet, previously deputy managing editor for wealth management at Dow Jones Newswires, has been promoted to managing editor of the department. Before working with Dow Jones Newswires, Noblet was business editor with AP.
Chrystia Freeland, previously global editor-at-large, has been assigned to the newly created role of Thomson Reuters digital editor. Freeland acted as the U.S. managing editor with the Financial Times before joining Thomson Reuters.
Tim Stevens is now the editor-in-chief with Engadget.
Jamie Tarabay, who previously acted as the foreign and domestic correspondent at NPR, is now the managing editor for national security with the National Journal.
Shira Toeplitz is back with Roll Call, where she will write a column and cover Iowa caucuses and congressional race. Before this, Toeplitz was a staff writer with Politico.
Carol Clark is now publisher of the Dayton Business Journal. Before becoming publisher, Clark acted as advertising director.
James Cury, who was web director with Hearst Digital Media Group, is now the online editorial director with Maxin Magazine.
Alex Baxter has been named chief digital officer with Competitor Group, Inc. Previously, Baxter was the general manager of digital media with Conde Nast's PARADE group.
Patrick Scott, who currently acts as business and investigative editor for The Charlotte Observer, will join The New York Times as finance editor in the first week of May.
More hires for HuffPo: Jaweed Kaleem will act as a religion reporter, and Rebecca Carroll, previously editor of Uptown and Paper magazines, will act as culture editor. Amanda M. Fairbanks, former education editor for GOOD magazine, will act as education reporter.
After discontinuing Private Equity Insider, Harrison Scott Publications assigned Mairin Burns and James Prado Roberts to Hedge Fund Alert. Chad Weihrauch now reports for Commercial Mortgage Alert.
Cyra Master, former writer for Hotline and CongressDaily, has joined Roll Call as copy editor.
Libby A. Nelson is now a reporter with Higher Ed. Previously, Nelson was a reporter for The Times-Tribune out of Scranton, PA.
Chad Millman will become editor-in-chief of ESPN The Magazine on June 13th, when the publication's headquarters move from New York City to Bristol, CT. Millman currently serves as senior deputy editor, and is the co-author of They Call Me Baba Booey.
Mandi Norwood has been named consulting editorial director with Niche Media LLC. Norwood has acted in editorial roles with Mademoiselle, Cosmopolitan UK, Company and Looks Magazines.
Kevin Shinkle is now deputy business editor with The Associated Press. Shinkle most recently acted as assistant business editor, money with AP.
Erin Griffith will cover digital media and venture capital with Adweek. Griffith is a former senior editor for peHUB.com.
Matthew Gryczan has been chosen as editor for Crain's Michigan Business. Before this, he acted as managing editor for Crain's Detroit Business.
Scott Wenger, formerly managing editor/money and business with The New York Daily News, is now editorial director with SourceMedia.
Marie C. Baca has joined VentureBeat as managing editor.
Christina Rexrode, formerly a banking reporter for The Charlotte Observer, is now a retail reporter with The Associated Press.
John E. Morris is now deputy managing editor of Dow Jones Newswire's Investment Banker. Morris previously acted as news editor in this sector.
Kathleen Hunter will join the capitol intelligence team for Bloomberg Government. Hunter will leave her current position of staff writer for Roll Call.
Mary Duenwald has left her role as op-ed page deputy editor for The New York Times to join the Bloomberg View. Sewell Chan will now act in that role with NYT.
Rachel Smolkin is now White House bureau chief with Politico. Before joining Politico, Smolkin was managing editor with American Journalism Review.
Dana Wollman, a former technology reporter with The Associated Press, is now the reviews editor with Engadget.
Allen Bernard has been named managing editor with eSecurity Planet.
Meet the Author
---