People on the Move | 3.22.12

Newsweek, O, The Oprah Magazine, Fortune…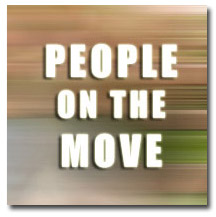 Alison Adler Matz is named senior vice president and publisher of Martha Stewart Living Omnimedia's Everyday Food and Whole Living. She was previously publisher of Fairchild Fashion Media's WWD Beauty Inc.

O, The Oprah Magazine promoted Maureen Mooney to associate publisher, and Deena Schacter to advertising director. Mooney formerly served as an advertising director, and Schacter served as style/sales director.

Newsweek and The Daily Beast named Susie Banikarim deputy director, editorial operations. She previously served as executive producer for Daily Beast TV.
DailyWorth tapped Cair Wira Dineen as editor of MoreWorth. She joins the publication from Redbook, where she was a senior editor. Lindsay Reinhardt also joined Dailyworth as senior editor. Reinhardt previously served as a staff editor for Tile Financial. Also, Jenna Reed is now managing editor for all group publications. Reed joined from Budget Travel, where she was managing editor.

Brian Kightlinger is named vice president of corporate sales for Meredith National Media Group. Kightlinger previously served as publisher and director of sales of the company's Parents Network brands.
Dan Fuchs will serve as publisher and chief revenue officer for Hearst's soon-to-launch HGTV Magazine. Fuchs previously served as associate publisher for O, The Oprah Magazine.
Ryan Bradley is named senior editor at Fortune. He joins the magazine from Popular Science.

Chris Batty joined Atlantic Media's soon-to-launch global business brand as launch publisher. Batty previously served as president of sales and marketing at Gawker Media.
 
Penton Media appointed Patricia Syed to senior director of marketing and analytics for the technology group. She previously served as vice president at UBM Channel.

Liesa Goins is promoted to executive editor at Daily Glow. She was most recently a Senior Editor at the beauty and health website operated by Everyday Health Inc. 

Brides named Abigail Kalicka senior fashion editor. She joins from Marie Claire, where she served as a senior market editor.

Myles Miller joined The Daily as a White House and congressional correspondent. He most recently served as a correspondent for The Daily Caller.

Hallie Seegal is promoted to news editor at The Huffington Post. She previously served as deputy blog editor for the publication.

George Ortiz is now director of audience development at Crain Communications. Ortiz previously served as director of audience marketing at SourceMedia.
Meet the Author
---