People On The Move | 2.13.13

Motor Trend, Ad Age, The New Republic and Kiplinger's Personal Finance...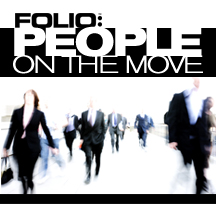 Penton has named Joe Territo as senior vice president of content and user engagement. Territo was most recently executive director of content for Advance Digital.
Buzzfeed has named Erik Malinowski as a senior writer. Malinowski was previously night editor at Deadspin.

Scott Burgess has been named Detroit editor at Motor Trend. Burgess was formerly a senior editor with AOL Autos.
Flirt Communications has named director of production Kari McGlinnen and creative director Pete burns as partners.
Ad Age has named Michael Learmonth as deputy managing editor. Learmonth was previously a digital editor at for the publication. Rupal Parekh has also been named as deputy editor. Parekh was serving as an associate editor for Ad Age.
The New Republic has named Michael Kinsley as editor-at-large. Kinsley will continue to serve as an editor and columnist for Bloomberg View.
Randi Siegel and Chris Peel have been promoted to joint advertising directors of Men's Health. Siegel was serving as executive fashion director and Peel was formerly an advertising sales manager for the magazine.

David Graham has been named politics editor at The Atlantic. Graham was previously an associate editor for the title, as well as serving as a report for Newsweek/The Daily Beast. Also, Elisa Glass has been named art director. Glass was previously art director at Northern Virginia Magazine.
CQ Roll Call has named Randy Walerius as an analyst for the Washington Securities Briefing. Walerius was previously an analyst at Bloomberg Government.
Kristen Heinzinger is now associate editor at American Salon Magazine. Heinzinger was serving as associate editor at PLANSPONSOR.
Fortune has named Pattie Sellers as senior editor-at-large and executive director of MPW/Live Content for Time Inc. Joining Sellers' team will be Leigh Gallagher, who will serve as co-chair of MPW along with Stephanie Mehta. And Colleen Leahy, reporter at Fortune will assume a new role as MPW digital program manager.
Josh Brous has been named vice president of branded events at Summit Business Media. Brous was formerly vice president of global events at the Mobile Marketing Association.
Lisa Gerstner has been named associate editor of Kiplinger's Personal Finance. Gerstner was previously a staff writer at the publication.
Meet the Author
---