PEOPLE Launches National Ad Campaign to Promote Newsstand

Broadcast, print, retail, digital and social media to be utilized.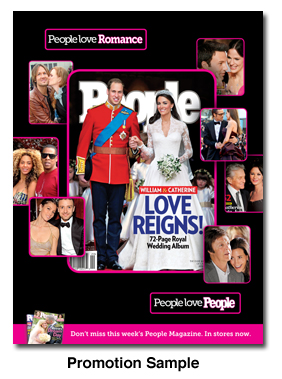 Time Inc. is taking an active and aggressive role to combat the consistently dismal sales of the newsstand with a new integrated brand marketing campaign for the gem of its portfolio: PEOPLE magazine.
Nationwide, advertisements will run across broadcast, print, retail, digital and social media platforms in an effort to jump-start and refresh interest in the celebrity weekly. According to the most recent Fas-Fax report from the Audit Bureau of Circulations for the period ending June 30, 2012, PEOPLE sold about 940,000 single copies at retail from January to June of this year, an 18.6 percent decrease when comparing the same period in 2011.
"Certainly Time Inc. has a very important stake in what's happening at the newsstand, so the whole company, we think, will benefit," says Karen Kovacs, publisher of PEOPLE.  "This is a full path to purchase marketing and advertising campaign so we're leveraging television and print to reignite the emotional connection that consumers have with the brand."
The mantra of the campaign is "People Love PEOPLE," which will be vocalized in 30-second TV commercial showcases, as well as 15-second online video ads which will be broadcast on networks and shows with a heavy celebrity focus, and digital and social media outlets featuring celebrity and entertainment programming. The aim is to get readers in store to buy the publication week after week.
"We're buying spots against our target," says Jenn Ogden-Reese, senior vice president of consumer marketing for the Time Inc. Style & Entertainment Group. "We're buying Wednesday through the weekend, which is when most of our buying happens—we sell mostly Thursday through Sunday. Digital will be custom every week and feature the current week's issue and what's on the cover. It's about tantalizing and engaging the consumer so we're using trivia that is from that week's issue."
At retail, in-store radio and video promotions will be used to close the sale. Additionally, Time Inc. is utilizing Catalina couponing, which will give targeted individuals discounts on PEOPLE magazine.
"Catalina provides tailored offers based on purchase history," says Ogden-Reese. "It's very much a way for us to be able to target the right consumer with the right offer. We've profiled our consumer so we know who is a heavy or light user of our product so we can do a lot of sophisticated, almost CRM-like, work to get the coupon into the hands of the right consumer who is responsive to that offer."
The digital advertising is used to show a sneak peak of each of the weekly issues, which Time Inc. hopes will drive overall interest. Social platforms like Facebook, Twitter, Tumblr, Pinterest and Instagram will be used, and each outlet will encourage users to do different things. There will be a "paid investment" with both Facebook and Twitter.
With photo sharing network Instagram, for example, users will be encouraged to take a photo of where they read their PEOPLE magazine.
"We've been smart and strategic about national investment," says Ogden-Reese. "We did a five-market test this spring and we measured not only sales lifts on single copies but impact to our website and subscription acquisitions—every measure was lifted. The primary goal, and I think from a clarity of advertising, is around driving the single copy at retail."
More than 40 print ads will run across nine Time Inc. titles, including PEOPLE StyleWatch, InStyle, Essence, Real Simple, All You, Health, Entertainment Weekly and Cooking Light, generating more than 300 million total print impressions designed to drive consumers to the newsstand. The creative for the campaign was created by the New York-based agency The Terri & Sandy Solution.
"We're going to see a brand lift overall," adds Kovacs. "This will have a positive effect on subscribers, but it should also have a positive effect with how consumers want to engage from a digital perspective. We are rolling out the ability to access the digital version of the magazine on the Web. It's not just only available on the tablet, but throughout the year you'll see access throughout the Web. We expect to see a lift in all channels."
To stay updated on the latest FOLIO: news, become a Facebook fan and follow us on Twitter!
Meet the Author
---