Penton Relaunches First Wave of Web Sites in Company-Wide Effort

First up: Nine agricultural sites to get retooled.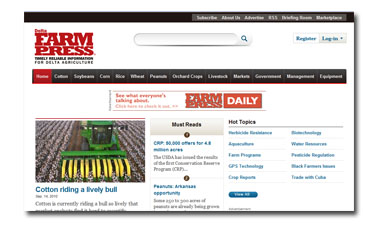 In an expansive effort that will eventually see the majority of the company's more than 100 Web sites relaunched, Penton Media is unveiling a re-engineering of its nine Agricultural Group sites. According to CEO Sharon Rowlands, the project will move Penton's Web sites away from simply being companions to its magazines to full-fledged Web-first products.
"We have changed the way that we think about digital content creation and the market," Rowlands tells FOLIO:. "The year-long analysis [Penton conducted] was very insightful and provided us with a real understanding of the consumption habits in the market. Traditionally, individual markets relaunched Web sites based on their perceptions and not what the market wanted and needed. Now, the market will provide us with ongoing feedback on our products and will shape the progression of the sites going forward."
That analysis consisted of market research as well as reviews of taxonomies and workflows for the company's editors, Rowlands says. The first sites to feature the new designs—which were accomplished in collaboration with digital design and tech company HUGE—are Delta Farm Press, Southeast Farm Press, Southwest Farm Press and Western Farm Press. National Hog Farmer, Beef magazine, Corn and Soybean Digest, Hay and Forage Grower and Farm Industry News will relaunch over the next few weeks. The sites will feature new search tools and streamlined navigation in addition to blogs, video and Webinars.
"We updated both the technology and the content, and we are writing content in a way that will increase its effectiveness to the user," says Rowlands. "The Web framework is component based, so the designs will have one framework and one platform, but each group will have its own taxonomy that is determined by the individual markets."
Rowlands says Penton will be able to monetize the project by leveraging the market research along with the editorial enhancements. "We are testing several new products in the market that will better align the marketers'objectives with our new content modules," she says. "In addition, you will see enhanced educational components and modules that will be introduced throughout the next year as well as enhanced distribution channels for the user. Our content will be fresh and stay current for our readers and will help ensure the branding efforts of our customers are sticking even as the user makes deeper dives into the sites."
With the Web-first approach, content online will largely be expanded and/or embellished in print, which still remains a "very important" medium, Rowlands says. Penton will continue to roll out more redesigned sites over the rest of the year but the majority will be unveiled throughout 2011.
Meet the Author
---