Penton Online Auctions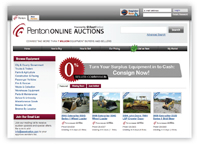 In a b-to-b twist on the e-commerce craze, Penton launched an online auction site that can scale across all the verticals the company targets.
Let's face it, e-commerce is an undeniable trend among publishers. But what does that look like in the b-to-b market? Consumer publishers have a never-ending array of products to pedal through partnerships with commerce sites or directly from their own. As the saying sort of goes: One man's cologne is another man's backhoe. At Penton Media, a b-to-b publisher serving almost 20 different markets, an e-commerce opportunity came about with the launch of its auction site in February 2011.
The auction model was instantly attractive for its ability to appeal to most of Penton's 16 markets. "We're always looking for new opportunities that obviously are in the different verticals, whether it's agriculture or wealth management," says Warren Bimblick, senior vice president, strategy and business development. "And then we're looking for those opportunities that we might be able to scale across a variety of different verticals."
Bimblick found a partner in AssetNation, which provides the online auction back-end. And in 2010, Penton, as part of its normal subscription requal telemarketing campaigns, polled customers on their interest for an auction site tailored to their industry. Positive feedback trended as high as 50 percent for some markets.
The site launched in February 2011, with agriculture as the first vertical. "Farmers buy and sell their used equipment in the winter, they don't do it in the summer or fall when they're using them," says Bimblick. Over the next few months, public infrastructure and trucking verticals were added.
Since the technology was the easy part, Penton needed to figure out how it would market the site and apply resources to manage it.
"AssetNation had the technology as well as the expertise in running auctions. What we had was access to the audience and an ability to develop a marketing promotion machine, for which we developed all kinds of ads that go into the websites, email blasts, magazines and so on," says Bimblick.
Another early perk was the absence of hard costs. "The only fixed cost we had was hiring someone who's in charge of developing all the promotion and interacting with AssetNation, he's basically a product manager," says Bimblick.
There was no investment in the technology for Penton. Money is exchanged through a revenue share.
Money is made on commissions. There's a small fee to post, but the bulk of revenues are made on buyer commissions—there are more buyers than sellers, making a higher upside on the buyers. The problem? There's more buyers than sellers.
An early hurdle has been getting inventory on the site. "When push comes to shove, you still have to get the equipment on the site. It doesn't come there by magic just because you promote the message to them," says Bimblick.
The site currently attracts about 30,000 unique visitors and next steps include adding more verticals which should help with the inventory issue. "If I can get a few more verticals up there, I'll have a bigger opportunity," says Bimblick.
Progress So Far
Penton's auction site attracted 30,000 unique visitors and 250,000 page views in December. Attracting sellers and inventory has been somewhat of a struggle and will become a key focus for 2012 as the company plans to launch more market verticals in the auction to drive more inventory, sales and commissions.
Meet the Author
---