Penton Launches New Wealth Management Website

Wraps in two brands as print titles become units under the site.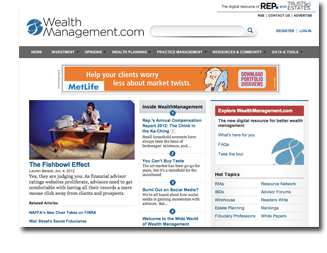 B-to-b media company Penton has launched a new website targeting the wealth management market called, appropriately enough, WealthManagement.com. The site merges two brands, RegisteredRep.com and Trusts&Estates.com, into one site.
Those two brands are also supported by print titles—Registered Rep. and Trusts & Estates. Registered Rep. will changed its name to REP. and both titles, effective with the June issues, will become "units" of WealthManagement.com.
The subordinate role will be reflected in the magazines' new taglines. REP. will read "The WealthManagement.com magazine for financial professionals" and Trusts & Estates will read "The WealthManagement.com journal for estate and planning professionals."
"In our thinking, WealthManagement.com is the uber-brand," says Warren Bimblick, Penton's senior vice president of strategy and business development. "And if we really are trying to get our users to use us in surround sound, then what better way than to tie them together by subsuming strong print brands into a digital branding."
The move is a strategic one, not symbolic, stresses Bimblick, who adds that REP. and Trusts & Estates, with 94,000 (controlled) and 8,600 (paid) circulations respectively, will act as feeders to the main destination site.
Accordingly, the site has adopted a hybrid free/registration/paid content model. Previously REP., which an average of about 184,000 monthly page views, had a free content model and T&E, with about 52,000 average monthly page views, was gated.
Across the print and digital platforms the two brands have amassed a database of 600,000 names and Bimblick says promotions are now underway to drive that audience to the new site.
While the digital platform made sense for a blended brand approach, the print brands will remain separate, says Bimblick. "One is a paid title and one is controlled. REP. is for financial advisors T&E is a paid subscription, peer-reviewed journal and a lot of its content is very specific for lawyers and accountants. They're really quite different."
Meet the Author
---