Penton Launches App for Niche Wealth and Estate Management Market

Includes editorially curated content feed from more than 70 sources.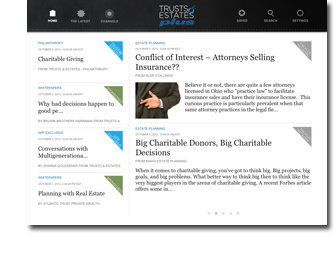 Penton has just launched a new app called Trusts & Estates Plus that targets subscribers of the magazine of the same name, as well as the company's new Wealthmanagement.com site. The app will cost $329 per year for new subscribers, which also provides access to Wealthmanagement.com and other digital products.
The potential audience is a small, but highly specialized one, says Warren Bimblick, Penton's senior vice president, strategy and business development. Trusts & Estates has about 10,000 subscribers and including the audience using Wealthmanagement.com, the total potential universe grows to about 25,000.
The app will not include any advertising, but content channels can be sponsored with a static logo. Marketers can also contribute sponsored content to the app, such as whitepapers. An email that's pushed periodically to subscribers to alert them of new content updates can also be sponsored, says Bimblick.
The app's content is fed from Trusts & Estates and Wealthmanagement.com, but a growing aggregated content feed curated by editors is also part of the model. Right now, there are about 70 sources contributing to that feed.
The app's four content buckets—original, sponsored, curated and app-exclusive—are dog-eared with a label indicating its source for easy identification, says Bimblick.
Existing subscribers to Trusts & Estates and/or Wealthmanagement.com do not get the app for free. "There is an upcharge," says Bimblick, which varies according to subscriber status.
Wealthmanagement.com was launched in June as a parent site to the Trusts & Estates and Rep. brands.
Meet the Author
---