PennWell Rebrands Electricity Magazine

New title to reflect modern, international readership.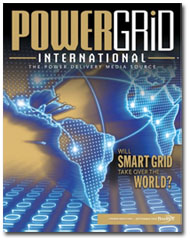 Tulsa, Oklahoma-based PennWell Publishing has rebranded its 15-year-old title, Utility Automation & Engineering T&D, as Powergrid International. The change will be effective with the magazine's Septermber issue.
PennWell decided to use the word 'grid' in the magazine's new name because it is the most commonly used term when referencing electricity transmission and distribution (T&D) infrastructure, editor-in-chief Teresa Hansen told FOLIO:. "It's a more current and modern term than T&D, and I believe using grid in the name illustrates that the magazine is changing with the industry and staying current. Grid, or powergrid, is also more recognized globally."
Part of the title's rebranding effort will focus on increasing international content and circulation, fulfilled through digital editions, which T&D began offering in January 2006. The monthly title currently carries a BPA-verified circulation of 36,000 (it is free to qualified subscribers and will maintain its $85 annual subscription rate).
Powergrid will now also be the sponsoring publication for PennWell's European show, PowerGrid Europe, a magazine-show connection that Hansen hopes will bolster this international circulation.
Meet the Author
---