PennWell Acquires Public Safety Group from Elsevier

Deal includes three brand platforms targeting fire, law enforcement and EMS.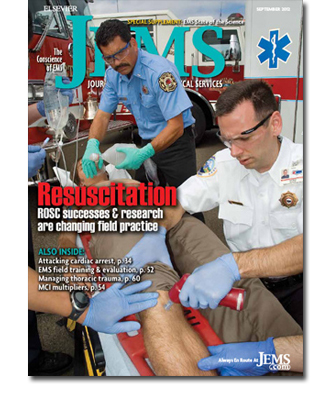 Tulsa-based PennWell has acquired the Public Safety Group from Elsevier. Included in the deal are the Journal of Emergency Medical Services (JEMS), the EMS Today Conference & Exposition, FireRescue, Law Officer and associated websites, events, blogs and newsletters. Terms of the deal were not released.
The deal is a significant get for PennWell CEO Robert Biolchini, who says JEMS, with a controlled circ of 47,000 and 150,000 monthly unique visitors to its website, has been one of his acquisition targets for about a decade. "The Elsevier Public Safety business is a rare and perfect fit with PennWell," he says in a statement. "We have long pursued JEMS magazine."
The EMS conference is another significant asset, adds Biolchini, and PennWell plans to expand the event internationally. Currently, the event is held each spring, attracting 5,000 attendees and close to 260 exhibitors on 54,000 square feet.
FireRescue, which reaches 53,000 subscribers and 610,000 unique visitors per month through its FireFighterNation.com and FireEMSBlogs.com sites, will add to PennWell's footprint in the fire sector with its existing magazines Fire Engineering and Fire Apparatus, and its Fire Department Instructor's conference.
Elsevier acquired FireFighterNation.com in 2009 from founder Dave Iannone, whose firm Go Forward Media was then brought in to architect the social platform around the JEMS and Law Officer brands.
The 36,000-circulation Law Officer will be paired with PennWell's Public Safety Communications brand.
Elsevier Public Safety group vice president and publisher Jeff Berend and his team will transition to PennWell with the deal, and will report to Lyle Hoyt, senior vice president and group publisher of PennWell's Fire and Dental groups. 
Elsevier recently sold its International Medical News Group to Quadrant HealthCom, which plans to use the deal to create a new entity called Frontline Medical Communications. 
Meet the Author
---