PEJ: One Third of U.S. Adults Get News by Phone or Tablet

Advertising week panel discusses latest PEJ report on mobile news consumption.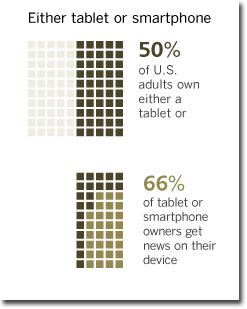 One third of adult Americans now get news via mobile devices, Amy Mitchell of the Project for Excellence in Journalism reported during a panel discussion as part of Advertising Week in New York yesterday. Surely, the announcement came as no surprise to the standing-room-only crowd at the NASDAQ Building in Times Square-many of whom were taking notes, tweeting and surfing on their own smartphones and tablets during the session.
Mitchell, joined onstage by moderator Nick Blunden of The Economist, Denise Warren of NYTimes.com and Jane Barratt of ad agency mcgarrybowen, was the centerpiece of the session, dovetailing her presentation with the PEJ's latest study, "The Future of Mobile News," released on Monday. The results show a rapid growth in mobile audiences, highlighted by the finding that half of adult Americans now own a smartphone, tablet or both.
More Devices Means More News
More than 40 percent of tablet users are using the device to add to overall news consumption, according to the PEJ report, allaying some fears that mobile is simply a replacement for laptop/desktop use.
Multi-device users don't appear to be using one device as a substitute for another either. People who get news through multiple platforms spend about the same amount of time on each of those platforms as people who use just one.
"We continue to see building evidence that people are using these devices to add to their news consumption," Mitchell says. "People are finding a way to continue to fit more and more news into their day. The more gadgets you have, the more news you tend to get."
In-Depth Mobile Reading
Tablet users have been especially active in reading long-form stories, with 19 percent of them doing so on a daily basis.
The evidence suggests the majority of tablet owners read multiple pieces per sitting and often end up engaging with articles they were not initially looking for. That tendency runs in direct contrast to the "search-find-and-run" habits typically found in the laptop/desktop setting.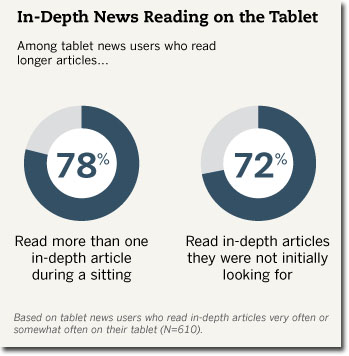 "Reading is not something people enjoy doing in long-form on the desktop," Mitchell says, pointing out that the average time on news sites is less than two minutes when accessed via laptop or desktop.
For publishers, that means users are willing to both visit more of their pages and spend more time on those pages once they're there.
Mobile Advertising and Subscriptions
Advertising potential was a bright spot in the survey, with the numbers suggesting far higher click-through rates on mobile platforms (between 12 and 14 percent) than on laptop/desktop screens (less than one percent).
Barratt says that it's now up to the advertisers to convert those users who are clearly engaging.
"The Pew research just shows the people have adopted it, the people are there," she says. "But the advertising community is still trying to catch up. I think the tipping point will come when the time people spend and the investment advertisers make will start to level out. New media takes a lot of time and money to get up and to get working."
Converting those users could be even more important as consumer attitudes about paid digital subscriptions don't appear to be softening any time in the near future. The desire for free content only seems to be becoming more ingrained-just six percent of tablet users say they paid for content, down from 14 percent a year ago.
"When we asked people, 'Well, why is that?'" Mitchell says, "We get the question back: 'Well, why would I?"
To stay updated on the latest FOLIO: news, become a Facebook fan and follow us on Twitter!
Meet the Author
---