PC World Names McCracken Replacement

Steve Fox returns to the tech magazine as editorial director.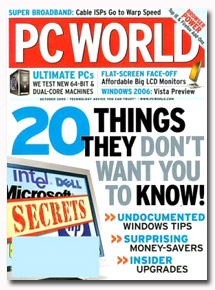 Steve Fox has been named vice president and editorial director at San Francisco-based PC World, IDG Communications announced today. Fox replaces editor-turned-online-entrepreneur Harry McCracken, who left in May.
Fox, who most recently served as editor-in-chief of online community firm Affinity Labs, returns to PC World after leaving in 1996 to join another IDG magazine—The Web. Fox started with PC World in 1990 and served in several editorial management positions including senior editor, managing editor and executive editor.
From 1999 to 2002 Fox served as editorial director at CNET.com and returned to IDG in 2003 as editor-in-chief of InfoWorld, which went online-only in March 2007.
About a month after resigning as
editor, Harry McCracken launched
his own technology news site, Technologizer. The site went live this summer in
a partnership with Federated Media.
Meet the Author
---