Paul Miller

CEO, UBM Tech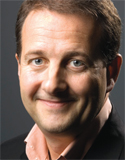 UBM Tech brings together communities who buy, sell and build technology. At the center of this strategy is our audience: The tech professionals changing our world. We see technology and media as inextricably intertwined and there is not an area of our business that is not touched by technology. Some of our most important and valuable technology implementations have been around our audience platform.
We want to make it as easy as possible for these professionals to access content, contribute their own content and register for our events. Traditionally this has meant filling in a registration form every time you want to download a whitepaper, watch a webcast or register for an expo or conference. To avoid this "friction," and remove the need to remember many passwords, UBM Tech has been quietly rolling out a comprehensive audience data platform. Not only does this make it easier for users to engage with our communities, it allows us to make recommendations personalized for each user based on their behavior.
Rollout of the system began two years ago and is now active on over 75 different websites and will shortly encompass all the expo and conference sites across UBM's global events business. Users will soon be able to login using their Facebook, Twitter or LinkedIn credentials avoiding having to create another username and password.
The technology has resulted in over 2.5 million user registrations that grant access to more than 20,000 whitepapers, webinars and millions of news articles, blog posts and feature articles. The sites where the "cross-sell/up-sell" feature has been deployed have seen increased user engagement. For example, we have seen a significant increase in users who have registered for a webinar, who have then gone on to register for another webinar or whitepaper as part of the registration process. The technology enables deeper engagement for our audience (who clearly want the content) and also for our sponsors (as it generates sales leads).
Additionally, the technology implementation encourages our community to access premium content up to 16,000 times a day generating high-quality leads for our marketing partners. Our community continues to grow with over 500 new users registering every day.
Meet the Author
---