Owen Van Natta | Jordan Hoffner

Chief revenue officer, Facebook | Head of premium content partnerships, YouTube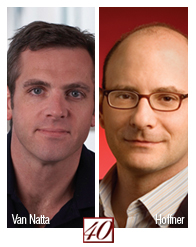 At a packed off-Broadway theater on the West Side of Manhattan in February, Owen Van Natta, Facebook's chief revenue officer, and Jordan Hoffner, head of YouTube Partnerships, gave what amounted to two hour-long sales pitches to attendees of the Magazine Publishers of America's Magazines 24/7 digital conference.
Their message? Magazine publishers thinking they can build their own Facebooks or YouTubes to tap the cacophonous buzz surrounding social networking should stop now. Why? Your audience already uses Facebook and YouTube and isn't going to migrate to your site. "That will never happen," Van Natta said.
He might be right. According to Nielsen Online, traffic to Facebook has more than doubled over the previous year—some 20 million people visited the site in February, up from 9 million during the same month in 2006. YouTube had over 70 million unique visitors in February, up from 42 million in February 2006 (and just 9 million during February 2005).
Dozens of magazines have already partnered with YouTube to tap into the site's massive audience—"hundreds of millions of streams a day" and 10 hours of video uploaded every minute—by giving up a modicum of brand control through aggregating users on their YouTube branded channels. "To lose a little bit of control gains a lot of market share," Hoffner says.
Brands as large as Playboy and Sports Illustrated have partnered with YouTube, and Hoffner said no brand was too small to strike a deal. "We want to give users a sense of infinite choice," he said. Partners, he said, get "over 50 percent" of the ad revenue.
And even the magazines that aren't heeding Van Natta and Hoffner's advice—by building their own social platforms—are maintaining a presence on both sites.
VITAL STATS: In February, over 70 million people visited YouTube, nearly double the amount of people who did in the same month last year. Facebook's 20 million uniques in February was more than double its February 2007 total.
Meet the Author
---