Optimizing Online Video for Your Audience

HealthGuru.com quadrupled page views thanks to a tight focus on metrics.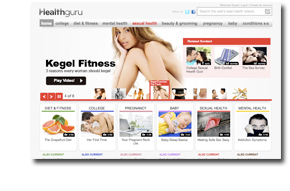 Many content publishers use video to supplement other forms of information online. For Healthguru.com, a destination site for health video, it's the only game in town. Accordingly, the site has maintained a strict focus on usage and engagement metrics to help it optimize its content and drive views up.
The company says total video views grew by 261 percent in 2010. The site averaged 3.3 million uniques a month, which the company says is a 99.6 percent increase over 2009. Citing comScore metrics, Healthguru.com users spent just over 11 minutes watching video in a month, 2 minutes are spent with each video on average. The site has amassed a collection of 2,000 health videos.
The site underwent a redesign, relaunching at the end of 2010 with a new interface that makes navigation more intuitive and new kinds of video content, including video quizzes, surveys and health assessments.
Driving all of this, says Healthguru.com CEO Josh Silberstein, is a focus on usage data. "Over time, we consistently analyze two pieces of data," he says. "How deep into the video does the average viewer get? And how often does a viewer go on to a second video?"
He adds that the team takes a more tactical approach to developing and presenting content rather than scrambling for a silver bullet concept. While some content verticals, such as pregnancy, lend themselves to serial usage, other subjects sometimes become unexpected hits. "When we get those, we deconstruct the videos. Is it a function of who the viewers were, different demographics? Is it something inherent in the video itself-is the information rare or hard to find?"
Users tend to come back to the site, on average, about 2 or 3 times in 60 days, says Silberstein. He cites comScore numbers that say a third to a half of the monthly uniques are new visitors. Internal numbers show a higher turnover-about two-thirds of the audience change over from one month to the next.
In the meantime, Silbestein is creating new kinds of video content to push interactivity. This, he says, represents an evolution of the format. "A lot of what's been done in the world of video is people applying the same usage case over and over again," he says. "It is my belief that if you look out a year or two, the world of video is going to transition out of a box in the middle of the screen to a medium that a broad range of content can be distributed from."
The idea is to draw the user in with content that's not as passive, or offers the viewer multiple angles to the same story-a bundle of videos on the same topic featuring the points of view of different subjects, for example. "We're removing ourselves from the idea of video showing up in a box and moving to an application mentality," adds Silberstein.
Meet the Authors
---