Oprah's Cover Share, Take II

Winfrey broke her own rule. Again.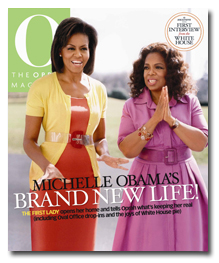 The April issue of O: The Oprah Magazine generated some hype for being the first issue in the magazine's nine-year history to have not just Oprah as the sole cover subject. (Oprah shared the cover with Michelle Obama.)
 
An anonymous comment on the foliomag.com story ("Oprah Shares Cover Magazine First Time") read: "It's all about ego. Do you really think she would share the cover with anyone else? Doubt it."
Apparently, O is shedding the ego in favor of sales.
On March 19, comedian and talk show host Ellen DeGeneres announced via her Twitter feed: "Oprah just asked me to be on the cover of O magazine!"
DeGeneres, who had initiated an "O, Yes I Can!" campaign for the spotlight, previously phoned HARPO studios on air and put herself on mock covers, all in the name of being an O cover girl.
With single copy sales falling over 25 percent during the second half of 2008 and overall circulation slipping 1.7 percent, does O think that sharing will up sales?
"We expect the current issue featuring Oprah with Michelle Obama—the first cover Oprah has shared since the magazine's launch—to be a big success and have similar expectations for her cover with Ellen," an O, The Oprah Magazine spokesperson told FOLIO:.
A decision hasn't been made yet on what issue cover DeGeneres will grace.
Meet the Author
---