One Music Magazine Celebrates its Return from Death While Another Scrambles to Avoid It

While Relix toasts relaunch, Paste tries to stay alive.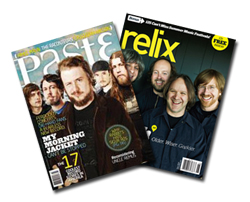 RELATED SLIDESHOW: Relix Relaunch Party
Last night on the west side of Manhattan, a group of about 150 people, armed with an excess of sweet tea vodka and Magic Hat, gathered in a renovated basement bar to celebrate the relaunch (or, more accurately, a reprieve from the governor) of a music magazine.
Unlike some magazine parties I've been to recently, this one felt like a celebration—and with good reason. Relix, which began as a Grateful Dead fanzine in the '70s, stared down its own death and will survive, at least for now, by the guts and guile of its staffers, who found a backer (Peter Shapiro) and took across-the-board pay cuts to, as the Dead would say, keep on  truckin'.
Yet, despite the generally good vibes, there was something of a dark buzz in the room: Paste, one of the music industry's well-respected, up-and-coming titles (and one of Relix's quasi-rivals), had hit on hard times, and, according to various music blogs, was about to launch a fundraising campaign to save its own beer-soaked hide. (Paste confirmed the rumors today.)
It used to be that the fall of a competing magazine would trigger at least a bit sinister, inner-glee. Not anymore. As one music magazine executive put it: "This vertical is already small enough—we need each other now."  
Meet the Author
---